Biodegradable Gloves
ECO PolyGear Biodegradable Field Dressing Gloves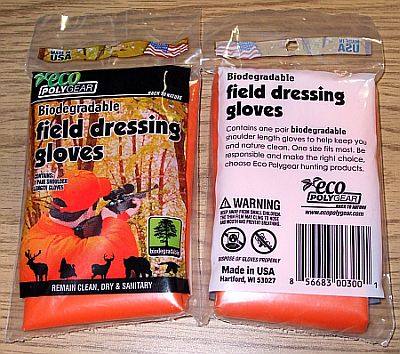 These shoulder length gloves help keep you and nature clean. They function the same as ordinary gloves in every way. What makes these gloves special is the fact that they use an additive in the plastic that makes them nature friendly. This revolutionary additive technology, when combined as a one-percent load to the most widely used plastic resins, renders the finished plastic products biodegradable while maintaining their other desired characteristics.
Advantages:
Fully biodegradable in 9 months to 5 years.
Fully biodegradable wherever they are disposed of.
They are recyclable.
They do not need heat, light or mechanical stress to break them down.
They do not need special handling
They do not contain heavy metals
These field dressing gloves are truly nature friendly. One size fits most and they fit easily in your pack. Be responsible and make the right choice, choose Eco Polygear hunting products.
---
There are no products to list in this category.