DILLON CP2000 with SMALL PRIMER SWAGER
DILLON CP2000 with SMALL PRIMER SWAGER
Brand: Dillon
Product Code: DP66200
Availability:

Pre-Order
DILLON CP2000
CASE PROCESSING MACHINE
with SMALL PRIMER SWAGER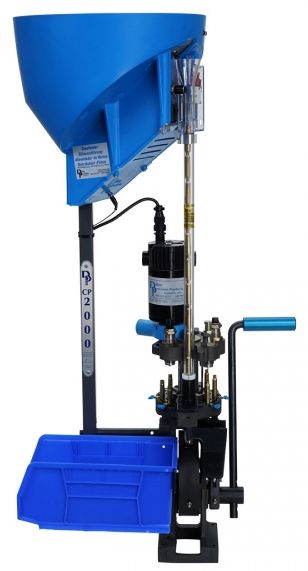 NOTE: The machine above is shown
with the following options (sold separately):
RT1500 Case Trimmer & Trim Die
CP2000 Short Trim Die Toolhead (Standard Toolhead included)
300 Blackout Conversion Kit
Universal Depriming Die
Backup Expander die
The Dillon CP 2000 Case Processing Machine features the Following :
Eccentric Roller Bearing Drive System
Smoother Operation, Less Effort
Higher Throughput , Lower Cost Per Case
Heavier Frame for Greater Rigidity
Seven Threaded Stations for More Flexibility
Upgraded Primer Pocket Swager
Primer Pocket Swage Available in Two Stations
User-Replaceable Swage Rod TipTwo Year Warranty
Reinforced Toolhead Bolt & Washer
Improved Shellplate Indexing System
Processing Speed up to 2000 Cases per Hour
One Year Warranty
The basic CP2000 includes:
Auto indexing shellplate
Built in primer pocket swager
Electric casefeeder
The RL1100 uses a variable speed,universal voltage case feeder. Order for both domestic or foreign use.The speed of the casefeeder is controlled by a potentiometer on the casefeed funnel. It allows you to infinitely regulate the speed from 0 to 8 RPM. The motor features a universal power supply for both domestic and foreign voltages. Adaptable to either 110 or 220 Volt, 60 or 50 hz, you simply swap out the plug to the style appropriate to your region. The bowl has an adjustable window cuff and cases deflector, for a larger range of cartridge capability.
The Casefeeder from Dillon Precision ships with one of four Casefeed plates which are listed below. The number of cases that the Casefeeder can hold will depend upon the cartridge type. Typically the Casefeeder will hold 600 38 Special cases or 500 223 Rem cases.
Small pistol Casefeed plate-.32, 380, 9mm, 38 Super, 30 Carbine
Large pistol Casefeed plate-40 S&W, 10 mm, 38 Special and larger, 7.62 x 39
Small rifle Casefeed plate-204 Ruger, 222, 223 Remington
Large rifle Casefeed plate-22-250 and larger
Note : this machine is to be used in conjunction with a reloader to speed up the reloading process. Traditionally in the past, another reloader was used for case processing, we now offer this dedicated machine to serve that purpose.