Lee Breech Lock Challenger Press
Lee Breech Lock Challenger Press
Lee Breech Lock Challenger
The "O" frame press by design is the strongest and by far the most popular style press. The larger than average opening allows for maximum hand clearance. The spent primer catcher is positive and allows you to route the spent primers directly to the trash can. Priming is a dream with the Lee Lever Prime System. Best of all, it includes the Breech Lock Quick Change die system. Change dies instantly with a twist of the wrist, and you never have to re-adjust your die. Other features include all steel linkage with adjustable length lever. This same press costs you over twice as much from other manufacturers without all of the Challenger's features.
If cost is more important than convenience, you can leave the Breech Lock bushing locked in the press and screw dies in and out like any conventional press.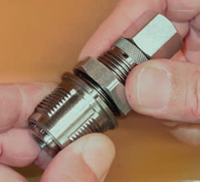 Press includes 1 Breech Lock quick change bushing. See the "Press Accessories" category to buy extra bushings.
Specifications:
Press Type: Single Stage
Frame Material: Die Cast Aluminum
Frame Design: O Frame
Frame Offset: 30 Degrees
Frame Opening Size: 4-1/4"
Handle Location: Bottom Right or Left
Die Size Accepted: Standard 7/8"-14 Threaded Dies
Die Bushing Accepted: Yes
Die Bushing Brand Used: Lee Breech Lock Quick Change Bushings
Spent Primer Collection System: Yes
Ram Stroke: 3-1/2"
Ram Diameter: .815"
Number of Mounting Holes: 3