MARK 7 EVOLUTION 9mm/.38 Super
MARK 7 EVOLUTION 9mm/.38 Super
Brand: Mark 7
Product Code: M7101-1175-01
Availability:

Out Of Stock
9mm/.38 Super
MARK 7 EVOLUTION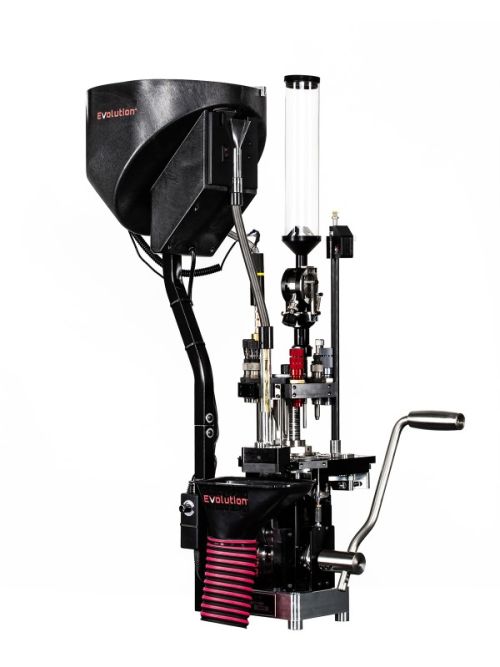 The new Mark 7 Evolution is by far the ultimate in manual progressive reloading presses. It is the core of the commercial grade Mark 7 Revolution reloading press. The Evolution 10 station rotary progressive press includes features that have never been engineered into a manual progressive press and it is fully up-gradable to the automated Revolution press with the addition of a Mark 7 Autodrive system.
The improved indexing system is the reason the Evolution indexes more smoothly and reliably than any other press manufactured today. You will feel the difference with the very first pull of the press lever. The 10 station tool head makes it possible to set up all your reloading operations to be completed in one pass. Swage, trim, a powder check die and a bullet feeder all have a spot on the Evolution press. With the new Evolution press it is all possible.
Standard features of the Mark 7 Evolution include:
A massive, robust 10-station tool head which allows you to "have it all":
Station 1: Case feeding
Station 2: Sizing and decapping
Station 3: Swage/Case trim
Station 4: Primer seat with hold down
Station 5: Resize/neck expansion
Station 6: Powder drop
Station 7: Powder check
Station 8: Bullet Dropper
Station 9: Seating
Station 10: Crimping
Large capacity, fast feeding case collator
Ergonomically designed operating handle, which can be assembled for right or left-hand use
New and improved case feed system using roller bearings and user-adjustable springs
Double Sleeve support for the tool head creates smoother more in-line function
Gear-based precision-fit overall operation
A large assortment of accessories, upgrades and sensors are available.
Designed for automation, and for many optional upgrades, which include the Mark 7 Automatic Primer collator, the Mark 7 Evolution Autodrive and the complete suite of Mark 7 Sensors and parts.
If you own a Mark 7 1050 Pro/X Autodrive – that can be modified for use on a new Evolution, with the purchase of a conversion kit.
Dimensions
Overall machine dimensions are 39" tall (99.1 cm) X 19.5" (49.5cm) wide x 14" (35.6cm) deep
Machine weight 65lbs (29.5kg)
Up-grade Ability
The Evolution™ can easily be upgraded with the following options at any point:
Evolution Autodrive
Automatic Primer Collator (only with Autodrive)
Digital Powder Dropper (only with Autodrive)
Machine caliber conversion kits that include all the components required to convert the press from one caliber to another
Trimmer kit for rifle processing
This Mark 7 Evolution Includes:

11" case feeder and shell plate in caliber
Mechanical Powder Dropper
Standard Stacked Primers
Machine conversion kit in caliber of choice.
Not included as standard.

Dies
Bullet feeder
Autodrive for Evolution
Optional digital powder Dropper
Optional Onboard Primer collator
Additional accessories and sensors
DIES PICTURED BELOW ARE NOT INCLUDED