Description
LEE BREECH LOCK CHALLENGER 50TH ANNIVERSARY CHALLENGER KIT
NEW IN 2014. This kit now includes the Value Quick Trim to prep your cases on the press.
Includes the new Breech Lock Challenger Press and one Breech Lock quick-change bushing.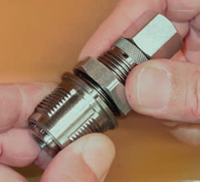 You get a complete powder handling system, with the most convenient and repeatable Perfect Powder Measure. Plus the Lee Safety Scale, the most sensitive and safest of all powder scales and fill your case with the included Powder Funnel. A $175.43 value.
Case Preparation Tools include a Value Quick Trim that allows you to trim the cases right on your press (order caliber specific trim dies separately) and a cutter and lock stud to trim your cases by hand (order caliber specific case length gauges separately). An included Lee chamfer tool chamfers the inside and outside of the case mouth and a tube of premium sizing lube is included. A small and large primer pocket-cleaning tool completes the case preparation package. $27.92 value.
But that's not all! You get the Large and small Safety Prime. Prime with push button convenience and is safe with all brands of primers. Never touch the primer from box to the case. $30.00 value.
Compare it to others priced at hundreds of dollars more. Reloading saves money and you save right from the start with Lee equipment.
LEE Breech Lock Challenger Press Product Review
Specifications:
Press Type: Single Stage
Frame Material: Die Cast Aluminum
Frame Design: O Frame
Frame Offset: 30 Degrees
Frame Opening Size: 4-1/4″
Handle Location: Bottom Right or Left
Die Size Accepted: Standard 7/8″-14 Threaded Dies
Die Bushing Accepted: Yes
Die Bushing Brand Used: Lee Breech Lock Quick Change Bushings
Spent Primer Collection System: Yes
Ram Stroke: 3-1/2″"
Ram Diameter: .815″
Priming Feature: No
Number of Mounting Holes: 3
Mounting Hardware Included: No
Includes:
Challenger Breech Lock single stage press
1 Breech Lock Die Bushing
Lee Safety Scale
Perfect Powder Measure
Powder Funnel
Lock Stud and Cutter
Lee chamfer tool
Primer Pocket Cleaner
Large and Small Safety Prime
Tube of Sizing Lube.
Note:
A Lee Case Length Gauge, sold on the Case Length Gauge and Shellholder page, will need to be purchased for each caliber being reloaded.
A Lee Quick Trim Die, sold on the Quick Trim Case Trimmer page, will need to be purchased for each caliber being reloaded for the Value Quick Trim.