Description
MARK 7 1050 PRO AUTODRIVE
NOTE: NO SALES OF MARK 7 ITEMS
OUTSIDE OF THE USA.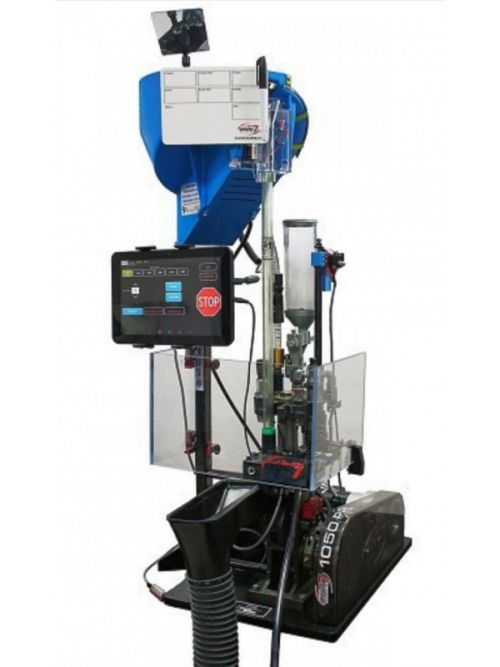 The Mark 7 1050 PRO Autodrive is by far the ultimate choice when it comes to automating your Dillon 1050 press. There has never been such an advanced and easy to use automation option for your 1050. If youメre looking for the best in speed, efficiency and performance the Mark 7 1050 PRO Autodrive is your only choice.
The Mark 7 Autodrive System is "plug and play" even though it is the most advanced system ever conceived. This system can be unpacked from the box, assembled to your press and be up and running in well under an hour. The Mark 7 1050 Autodrive learns your 1050, calibrates itself to your press and is ready to go.
The Mark 7 1050 PRO Autodrive is packed full of hi-tech advanced features. It is a patented digital drive system which features a digitally controlled clutch, allowing you to set the clutch levels as desired. Programmable indexing speed and a first ever dwell-time delay setting, makes this a truly customizable solution. You can easily set it up just right for your ammo and loading preferences.
The Mark 7 1050 PRO Autodrive in controlled by a 10″ tablet computer (included) and offers a wide arrange of computer controlled options for counters and Stops, as well as several external optional sensors available as accessories, and sold separately. It is hands-down the quietest Autodrive system on the market, and offers a wide range of upgradable features, with more abilities and sensors being added by the Mark 7 engineering team.
The Mark 7 1050 PRO Autodrive has adjustable speed options which are set by the user and can be adjusted on the fly. Cycle rates up to 3,500 are available, and give an effective output rate of approximately 3,300 rounds loaded per hour, depending on dwell time and indexing speed control setting.
If top of the line technology, innovative features and high quality is what you are looking for, Mark 7 is the only choice.
Features at a Glance:
AUTOMATES THE DILLON RL1100/CP2000/SUPER 1050 PRO

(Dillon Press Not Included)

.
Digital clutch – adjustable on-the-fly
Completely compatible with Mr Bulletfeeder and GSI bulletfeeders
Digital jog and immediate stop
Microprocessor controlled
Includes brilliant metal tablet – no control boxes!
Features monitored by tablet
Downloadable software upgrades – for life!
Supports a variety of accessories
User-configurable Dwell time
Plug-and-play with your unmodified Super 1050, RL1050, CP 2000, 1100
Pre-assembled and shipped ready to you
CNC grade planetary gearbox
Maintenance-free timing belt drive
Full warranty
User selectable speeds of up-to 3,500 rounds/hour
1.5 HP high torque motor
This unit operates at 110 volts.
Machine dimensions are: 41″ tall (104 cm) x 16″ wide (40.6 cm) x 20″ deep (50.8 cm)