Description
MARK 7 650/750 PRO AUTODRIVE
NOTE: NO SALES OF MARK 7 ITEMS
OUTSIDE OF THE USA.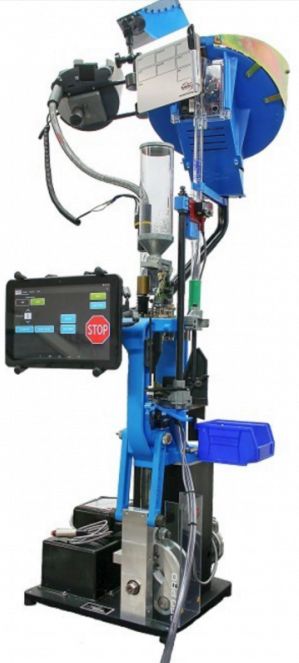 Mark 7 Autodrives are the top choice for when you choose to automate your DILLON hand operated reloading press. The combination of the patented digital sensor technology, torque sensing motor and jam sense technology ensures a safe and trouble free loading experience.
If top of the line technology, innovative features and high quality is what you are looking for, Mark 7 is the only choice.
Features at a Glance:
Includes the Mark 7 Optical Decapping Sensor
AUTOMATES THE DILLON 650 and 750 SERIES

(Dillon Press Not Included)

.
4 user selectable speeds from 900 to 1,800 rounds per hour
Includes pre-loaded 10″ High Resolution tablet – no control boxes!
Includes heavy duty tablet holder
Completely compatible with Mr. Bulletfeeder and GSI bulletfeeders
Broad caliber capacity – able to load a wider array of calibers including larger rifle calibers
Small footprint
Digital clutch – adjustable on-the-fly from 0 to 20
Digital primer depth setting – no more guessing!
Digital jog and immediate stop
Microprocessor monitored and controlled
Features monitored by tablet
Downloadable software upgrades for life
Supports a variety of accessories
User-configurable Dwell time at the top of the stroke
Easy Installation
Pre-assembled and shipped ready to use
CNC grade planetary gearbox
Full warranty
High torque motor – same available torque to machine as the 1050 Autodrive
This unit operates at 110 volts.
Dimensions and Capacity
Overall machine dimensions are 49″ tall (124.4 cm) X 14″ (35.5cm) wide x 12″ (30.5cm) deep
True operational height: earlier machines 52.5″, later machines 48.5″
Quiet operation approximately at 75-80 dB including case and bullet feeder
650 / 750 Autodrive Specifics
CNC billet heavy-duty crank
High torque output
Mounted on heavy-duty baseplate
In-line direct-drive operation helps ensure equal amounts of pressure applied to the 650 ram / operation
Does not include the Dillon Precision XL650 reloading press
Completely compatible with the leading bullet feeders on the market
The auto drive system comes pre-assembled on a 1/2″ aluminum billet base plate ready to simply bolt on your press with the included hardware. Package includes the high horsepower motor, gearbox, motor mount and supplementary electronics. Our 10″ android tablet comes pre-loaded with Mark 7 software and is user upgradable FOR LIFE when a new version is released. Comes with a high quality tablet mount. Everything you need to turn your hand operated press into an automated ammo factory is included — typical installation time is ONLY 20-30 minutes!