Description
TITAN MULTI-TUBE ADAPTER
SPECIAL INTRODUCTORY PRICING
PLEASE CHECK AVAILABILITY (upper right corner).
LIMITED SUPPLY-NO BACKORDERS.
ABSOLUTE ONE PER CUSTOMER
DUE TO PRODUCTION RATE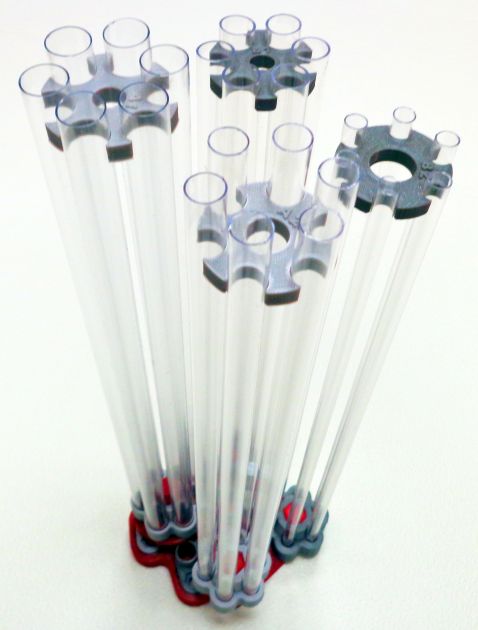 The TITAN MULTI-TUBE ADAPTER is a 3D printed PLA plastic 6-Tube bullet/brass adapter designed to replace the Tube Supports PA4360A and PA4360B that are included with the Lee Deluxe APP Press which only have a one tube capacity. Included with this adapter are 4 magazines (A1, A2, B1, B2) that hold 6 tubes on a rotating carousel. The tubes are the same sizes as the tubes included with the Deluxe APP Press. The extra 5 tubes will greatly increase production compared to the standard bullet feed on the Deluxe APP Press. This adapter will work for bullets and brass which means it can also be used for brass (.223 Rem or less in length) instead of the Lee Universal Case Feeder on all Lee progressive presses. This unit also includes a holder for your bench and labeled (A1, A2, B1, B2) tubes to store the adapter components when not in use.
There is no collator for this Multi-Tube adapter but you can fill the tubes pretty fast when you load them off of the feeder and on the bench. You then put your finger over the dropping end of the tube to keep the bullets/cases from falling out and install the filled tubes one at a time on the feeder. The tubes snap into the tube harnesses at the top end of the tubes.
NOTE: If you do not currently have a 90242-Lee Universal Case Feeder you need to get 90479-Case Slider and Riser to use this Titan Multi-Tube Adapter on Lee progressive presses. 90479 is not needed for the Deluxe APP Press.
TUBE INSIDE DIAMETERS:
A1=.53″
A2=.405″
B1=.485″
B2=.28″
CAPACITY EXAMPLES:
.45 ACP brass=108
.223 Rem brass=54
.308 Win brass=48
9mm x 115 grn bullets=168
.223 Rem x 60 grn bullets=108
.308 Win x 147 grn bullets=90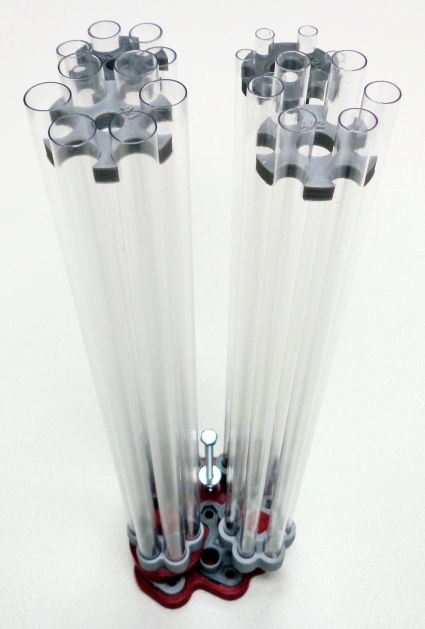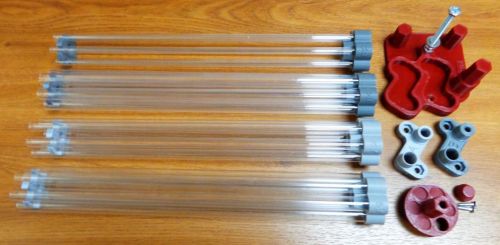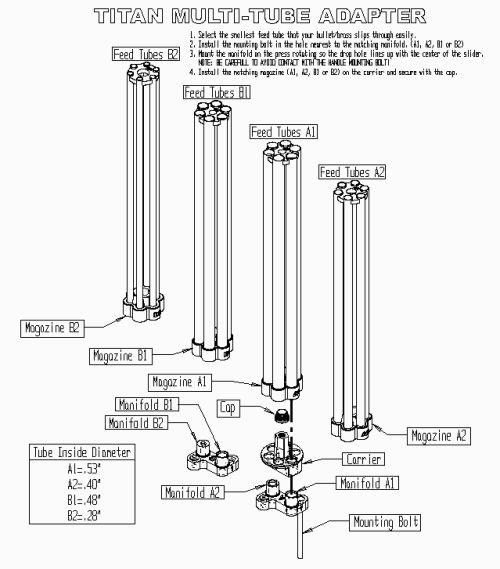 4 1/2 MINUTES TO FILL 54 .223 REM CASES