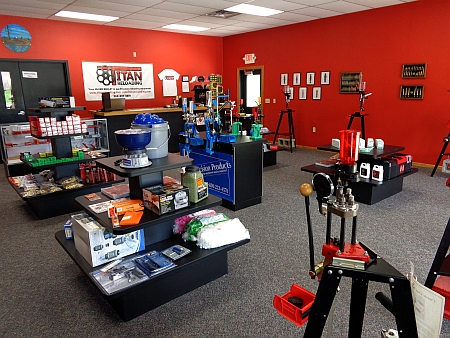 Even before we opened the doors to our showroom, we were already Master Distributors of the entire line of Lee Precision reloading equipment. Nowadays we also distribute shotshell reloaders for Mayville Engineering Company, Inc., which include the wildly popular MEC presses and dies. And we also carry reloading equipment from the highly reputed, Redding Reloading. Not to forget that we have a huge variety of Mighty Armory dies in stock and that we also distribute all Dillon Precision products.
And last but not least, we have our very own Titan products, which include a myriad of harnesses, primers, wrenches, and even our very colorful logo t-shirts, hats and press covers.
You can view and/or order any of these high quality supplies in our shop from Monday to Saturday during working hours.
Seeing is Believing and Trusting
Before opening our current showroom, we thought that our detailed online catalog was enough. After all it featured all the necessary product details of all our business offerings. What we didn't realize then was that some of our customers prefer to interact with the products on a physical level. Most customers also value the intimate business relations that come with across-the-counter transactions. The face-to-face shopping environment enables clients to ask us all kinds of questions, to explore and browse our large inventory in-person, and to ultimately forge stronger and more sincere business ties with us.
A Family of Customers
Our showroom at 994 W. Sumner St. upholds all the principles and values that have made our online business a huge success. All our business endeavors are fully committed to ensuring total customer satisfaction through unwavering respect and business integrity. Feel free to visit our showroom for any product/business queries and/or needs or even to attend our free monthly reloading workshop. Your physical presence will help establish and enhance family like ties in our fast-growing Titan community.
For further information about our reloading supplies or to peruse our online store please visit www.TitanReloading.com or contact us directly at 262-397-8819.