REDDING Reloading Equipment

Proudly Manufactured in America Since 1946
Redding Reloading Equipment is a premier manufacturer of reloading equipment for metallic rifle and handgun cartridges. The company has a long history of innovation and the development of unique and Patented products, which may be used to produce the finest and most accurate hand loaded ammunition possible. All Redding products are made only in their Cortland, NY facility, from American Steel, with Castings from Pennsylvania and on 100% American Made machinery.
Redding offers numerous unique solutions to improve the accuracy, consistency and reliability of your hand loaded ammunition.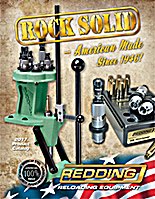 Titan Reloading is currently building our inventory of Redding Reloading Equipment. If you are looking for Redding items that are not listed please feel free to CLICK HERE AND CONTACT US. We will be happy to provide a price quote and order them for you. Please provide the Redding product number when requesting a quote for dies as there are a number of die sets available in most calibers.
Products