Lee Carbide or Steel 3 Die Sets
Lee uses a solid carbide insert, ground to a special contour that does not leave the objectional belt mark on the case, common to ordinary carbide dies. With a carbide sizer, no case lube is needed, and you don't even have to clean your cases.
No need for a taper crimp die, plus better accuracy with Lee Dies. Taper crimp dies are used to correct the problems caused by the improper expanding plug design or adjustment. They distort the bullet shank and reduce accuracy. Because the Lee Expander flares the minimum amount, consistent with easy bullet insertion, all of the flare is removed with the bullet seating die, thus eliminating the need for a taper crimp die. The Bullet Seating Die is an adjustable crimp from slight taper to full roll.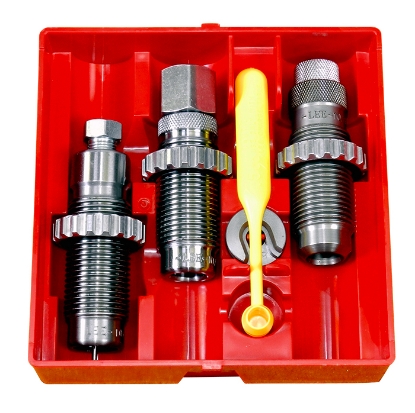 Lee Steel 3 Die Sets have the same features as the premium carbide sets, except the case must be lubricated
Lee supplies what you need, and what you want!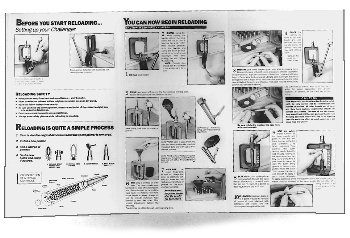 Lee has started millions in the fun and profitable hobby of reloading. Lee Precision is the only company that sells tools and dies with individualized instructions and load data. Every die set (except RGB Dies) has an instruction and data sheet specifically for that caliber.
Lee carbide dies are contour ground to provide step-less sizing. After sizing a case, except for the burnish, you cannot tell where the sizer stopped. Other brands leave a pronounced step where the die stops. Designed for progressive loading.Each die has an enlarged mouth to dependably align even range damaged cases. They are built to last for the large volume reloader.

A free shell holder is included with every set.
Specifications:
Material: Steel w/ Carbide Insert
Includes:
Carbide Sizing Die with decapping unit
Powder Through Expander Die
Bullet Seater Die
Plastic Container
Shell Holder
Powder dipper
Load data sheet
"CLICK" ON THE CALIBER BELOW
Products
Showing 1–32 of 36 results
Showing 1–32 of 36 results