Auto Prime Shell Holders
Lee Auto Prime Shell Holders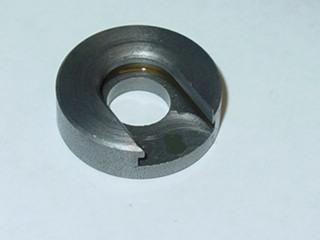 Hardened Steel
Machined to close tolerance for maximum accuracy
NOTE:These shell holders are for the Lee Auto Prime and Auto Bench Prime only.
See "Universal Press Shell Holders" for press shell holders.
Pistol & Rifle Holder# Application Charts
Note: Where two numbers are listed the first is the better choice.
Complete Application Chart in the Shell Holders and Calibers section of our FAQ.
| HOLDER# | PISTOL |
| --- | --- |
| 1 | 22 Rem. Jet |
| 15 | 25 ACP |
| 1 | 256 Win. Mag. |
| 19 & 6 | 30 Lugar |
| 19 & 6 | 30 Mauser |
| 4 | 32 Short Colt |
| 4 | 32 Long Colt |
| 4 | 32 S & W |
| 4 | 32 S & W Long |
| 4 | 32 H & R Mag. |
| 7B | N/A |
| 7 | 32 ACP (Auto-Prime) |
| 4 | 32 Colt N.P. |
| 4 | 380 Auto |
| 19 & 6 | 9mm Luger |
| 1 | 38 S & W |
| 1 | 38 Colt N.P. |
| 19 & 6 | 38 Super Auto |
| 19 & 6 | 38 ACP |
| 1 | 38 Short Colt |
| 1 | 38 Long Colt |
| 1 | 38 Special |
| 1 | 357 Magnum |
| 2 | 357 Auto Mag. |
| 19 | 40 S & W |
| 19 | 10mm Auto |
| 1 | 41 Long Colt |
| 19 & 6 | 41 Action Express |
| 9 | 41 Magnum |
| 11 | 44 S & W Special |
| 11 | 44 S & W Russian |
| 11 | 44 Magnum |
| 2 | 44 Auto Mag. |
| 2 | 45 Auto |
| 11 & 14 | 45 Colt |
| 11 | 454 Casull |
| 5 | 455 Webley |
| 12 | PPC |
| 13 | 45 Auto Rim |
| 2A | N/A |
| 14 | 45 Schofield |
| 5 | 480 Ruger |
| 5 | 475 Linebaugh |
| 16 | 500 S & W |
| HOLDER# | RIFLE |
| --- | --- |
| 4 | 17 Rem. |
| 4 | 204 Ruger |
| 20 & 7 | 22 Hornet |
| 20 & 7 | 22 K Hornet |
| 3 | 22 Savage |
| 2 | 22 BR |
| 6 | 218 Bee |
| 3 | 219 Zipper |
| 10 | 220 Swift |
| 4 | 221 Fireball |
| 4 | 222 Rem |
| 4 | 222 Rem Mag. |
| 4 | 223 (5.56mm) |
| 5 | 223 WSSM |
| 2 | 224 Clark (22/257) |
| 10 | 225 Win. |
| 2 | 22/250 |
| 2 | 240 Weatherby |
| 2 | 243 Win. |
| 5 | 243 WSSM |
| 2 | 6mm Rem. |
| 2 | 244 Rem. |
| 2 | 6mm International |
| 2 | 6mm/284 |
| 2 | 6mm/06 |
| 4 | 6 x 47 (6mm/222M) |
| 2 | 25/284 |
| 2 | 25/06 |
| 6 | 25/20 Win. |
| 2 | 250 Savage |
| 3 | 25/35 |
| 2 | 257 Roberts |
| 5 | 257 Weatherby |
| 5 | 303/25 |
| 2 | 6.5mm 06 |
| 2 | 6.5mm x 57 |
| 3 | 6.5 x 55 Mauser |
| 10 | 6.5 jap |
| 5 | 6.5 Rem. Magnum |
| 2 | 6.5 Carcano |
| 5 | 264 Win Magnum |
| 21 | 6.8 REM SPC |
| 2 | 270 Win. |
| 5 | 270 Weatherby |
| 5 | 270 Win. Short Mag. |
| 2 | 280 Rem. |
| 2 | 7mm/08 |
| 2 | 7mm BR |
| 4 | 7mm TCU |
| 3 | 7 x 30 Waters |
| 2 | 7 x 57mm Mauser |
| 5 | 7 x 61 Sharpe & Hart |
| 5 | 7mm Rem. Magnum |
| 5 | 7mm Win S Magnum |
| 5 | 7mm Weatherby |
| 5 | 7mm Ultra Mag |
| 25 | 338 Lapua Magnum |
| 3 | 7.5mm Schmidt-Rubin |
| 7 | 30 M1 Carbine |
| 3 | 7.62 x 53 Arg. Mauser |
| 12 | 7.62mm x 39 |
| 16 | 7.62 x 54 Russian |
| 3 | 30 Herrett |
| 3 | 30/30 Win (30 W.C.F.) |
| 2 | 300 Savage |
| 2 | 308 Win (7.62 NATO) |
| 5 | 30/40 Krag (30 U.S.) |
| 2 | 30/06 Springfield |
| 5 | 300 H & H |
| 5 | 300 Weatherby |
| 5 | 300 Win. Mag. |
| 5 | 300 Ultra Mag |
| 5 | 300 Win. Short Mag |
| 5 | 308 Norma Mag. |
| 5 | 303 British |
| 2 | 7.7 Jap |
| 3 | 32 Win. Special |
| 3 | 32 Win. S.L. |
| 6 | 32/20 (32 W.C.F.) |
| 3 | 32/40 Win. |
| 2 | 8 x 57 Mauser |
| 2 | 8mm 06 |
| 2 | 8mm Man. Schoe. |
| 5 | 8mm Rem. Mag. |
| 17 | N/A |
| 16 | 8 x 56R Hungarian |
| 8 | 33 Win. |
| 5 | 338 Win. Mag. |
| 5 | 338 Ultra Mag. |
| 5 | 340 Weatherby |
| 8 | 348 Win. |
| 2 | 35 Rem. |
| 5 | 35 Win. |
| 2 | 35 Whelan |
| 5 | 350 Rem. Mag. |
| 3 | 356 Win. |
| 2 | 358 Win. |
| 5 | 358 Norma Mag. |
| 3 | 375 Win. |
| 5 | 375 H & H |
| 5 | 375 Weatherby |
| 5 | 375 Ultra Mag. |
| 14 | 38/40 Win. |
| 3 | 38/55 Win. |
| 8 | 40/82 Win. |
| 5 | 416 Rem. |
| 8 | 416 Rigby |
| 18 | N/A |
| 17 | N/A |
| 14 | 44/40 |
| 11 | 444 Marlin |
| 8 | 45/70 |
| 5 | 458 Win Magnum |
| 2 | 6.5 Creedmoor |
Products