Redding Master Hunter Die Sets
REDDING MASTER HUNTER (MH-C) DIE SETS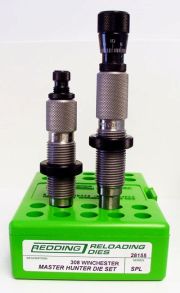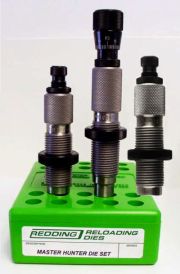 MASTER HUNTER 2 DIE SET                 DELUXE MASTER HUNTER 3 DIE SET
Now supplied with a carbide size button and also available as "Deluxe" sets with neck sizing die !
Master Hunter Die Sets were inspired by the success of our National Match Dies. Experienced hunters know that full length resizing is important when a high stress follow-up shot is needed in the "real world" of hunting. The Master Hunter "Deluxe" Die Sets now add the option of neck sizing for optimal on-the-range load development.
Master Hunter (MH-C) 2 Die Set Full Length Sizing Die with a Carbide Size Button and the extraordinary Redding Competition Seating Die.
Deluxe Master Hunter (MH-C) 3 Die Set-Combines the two Die Set described above with the addition of a Standard Neck Sizing Die.
NOTE: These listings are for the PRE-ORDERING of Redding Master Hunter die sets.
PRE-ORDERED dies cannot be canceled.
No products were found matching your selection.