LEE MOLDS
BULLET MOLDS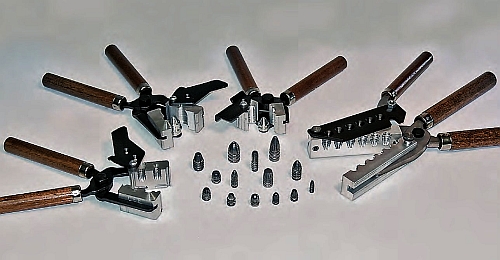 All Lee Mold Blocks are made from aluminum because of the exceptional molding qualities.
The mold cavities are CNC machined for unmatched roundness and size control
Only Lee guarantees roundness of .001 or less.
Most bullets from Lee molds can be used as cast without sizing.
Lee Single Cavity Molds includes handles and sprue plate.
Double Cavity Molds for pistol calibers are double cavity to speed casting. Handles and sprue plate are included.
Hollow Base Molds are available in single cavity only. They all have self centering automatic core pins for the fastest possible molding. Handles and sprue plate are included.
Six Cavity Commercial Quality Molds are made for heavy duty volume production. The mold and blocks have steel bushing and alignment pins for lasting precision. Price includes a cam operated sprue plate to eliminate the pounding common to ordinary molds. The sprue plate is hard anodized and held down with wave washers at each end. No finer mold can be purchased at any price. Handles are not included ( sold separately ).
Mold Handles are precision steel mold handles and not only fit the Lee Six Cavity blocks, but most other brands of one and two cavity molds. Priced low enough so you can have a set for every pair of blocks.
Micro Band Bullets usually require no sizing

WARNING Melting lead and casting lead objects will expose you and others in the area to lead, which is known to cause birth defects, reproductive harm and cancer. See instructions on Reducing Exposure supplied with product.
Products