Lee Pistol Factory Crimp Dies
For Handgun Ammunition That Must Work
Lee Carbide Factory Crimp Die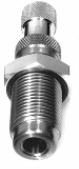 A carbide sizer sizes the cartridge while it is being crimped so every round will positively chamber freely with factory like dependability. The adjusting screw quickly and easily sets the desired amount of crimp. It is impossible to buckle the case as with a conventional bullet seating die. Trim length is not critical so this extra operation takes less time than it would if cases were trimmed and chamfered. Revolver dies roll crimp with no limit as to the amount. A perfect taper crimp is applied to auto-loader rounds. The crimper cannot be miss adjusted to make a case mouth too small to properly head-space. A firm crimp is essential for dependable and accurate ammunition. It eliminates the problems of poor ignition of slow burning magnum powders.
Lee Taper Crimp Die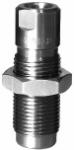 The Lee Taper Crimp Dies is hardened steel designed to overcome crimp problems caused by poor die design. These dies offer little or no advantage when used with 1986 or newer Lee Dies as the crimp angle is already modified taper crimp. Jacketed bullets must have a crimp groove.
Lee Bottle Neck Pistol Factory Crimp Die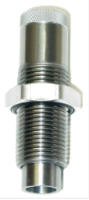 Incorporates a collet to apply a rifle type crimp to the case. Makes these very difficult to crimp cartridges a delight to reload. Bullets do not need a crimp groove, as the collet is so powerful it will form one.
Assure your mixed brass is bulge free with the Bulge Buster Kit and appropriate Lee Factory Crimp Die. This push through die adapter will quickly remove the annoying bulge rings that shell holder constrained dies simply can't reach. The Bulge Buster Kit includes extension sleeve, push through punch, catch container and complete instructions.
"CLICK" ON THE CALIBER BELOW
Products