MEC SIZEMASTER
MEC SIZEMASTER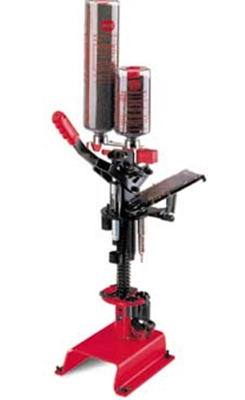 Mayville Engineering Company is the world's largest manufacturer of quality shotshell reloaders and that's why everyone looks to MEC for leadership. And that's why MEC guards its reputation for quality and precision. This quality and precision is built into every one of MEC's "New Generation" reloaders providing you with the most up-to-date engineering, most sophisticated, trouble-free shotshell reloader available.
Your MEC SIZEMASTER is no exception. It offers simplicity without sacrificing convenience and efficiency. And its loaded with premium features. The sizing station accommodates both high or low brass heads, and the highly accurate "Power-Ring" collet sizer returns every base to factory specifications. An eight-fingered collet squeezes the base back to original dimensions, then opens up quickly to release the shell.
The E-Z Prime auto primer feed lets you load it and forget it. The E-Z Prime dispenses automatically eliminating the time consuming bother of handling individual primers. It holds a full box of primers and greatly enhances the speed of production. The E-Z Prime is not offered on .410 models. Your MEC SIZEMASTER also features the Pro-Check which remembers the loading sequence and prevents spilled powder or shot.
Several other features contribute to the MEC SIZEMASTER versatility:
There is a large size shot bottle.
A new one piece Spindex crimp starter with swivel action to correctly align with the original shell creases and can be changed from 6-8 pt. in seconds.
Best of all, the crimp die is now manufactured from a revolutionary new material called "DuPont Zytel" which makes maintenance a breeze. The glass-reinforced strength of Dupont Zytel far exceeds any requirements, is absolutely rust free, and actively resists the build-up of residue carried into the die on fired shells. Thus, the die slides effortlessly over the casing, making a perfect crimp every time.
You'll be glad you bought a MEC SIZEMASTER. MEC has combined revolutionary new features for unequaled performance with rugged simplicity for years of dependable service. A single-stage reloader that offers this much precision, convenience and efficiency, can only be the MEC SIZEMASTER.
NOTE: This reloader will reload steel shot shells. To convert to steel shot kit #8433 is necessary. Do not use components designed for use with lead shot when loading steel shot shells.
NOTE: A special steel shot charge bar must be used when loading steel shot. Do not use charge bars designed for lead shot when loading steel shot shells.
Products