Description
NEW Lee 6 Cavity BLANK Bullet Mold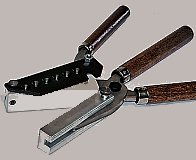 NEW Lee Precision 6 Cavity Blank Bullet Molds are precision machined blank mold blocks and components. They come disassembled so you can cut your own bullet cavities into the mold blocks. Spru plate and handle shown in the picture are included along with the assembly hardware.
NOTE: Mold Block Handles shown in the picture are NOT INCLUDED. Use handles 90005 in the category.

WARNING Melting lead and casting lead objects will expose you and others in the area to lead, which is known to cause birth defects, reproductive harm and cancer. See instructions on Reducing Exposure supplied with product.