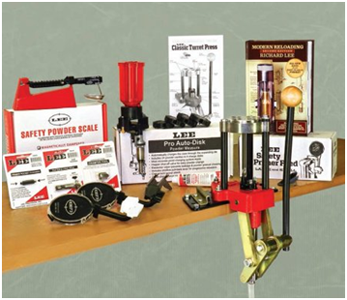 Reloading your own ammo is a great way to create new custom load sizes, and also to save anywhere from 60 to 80% off the cost of factory ammunition. With Lee's reloading kits, you'll be able to start reloading your ammo right away, with the minimum amount of hassle. Even if you've never reloaded ammo before, Lee's kits will make it easy to get started. Let's take a look at a few of the most popular reloading kits that we stock at
Titan Reloading
, and tell you why our customers are so happy with them.
The Lee Classic Cast Turret Press Kit
This turret press kit and a set of dies (not included) is the total package that you need to start reloading right away. Even first time reloaders will find it easy to set up. One reviewer, Paul, was new to reloading and had a strong opinion after buying the Lee Classic Turret Press: "I have to say that for the money the Lee products are top notch and Titan Reloading is second to none." Other reviewers have felt the same way.
One of the main reasons that this kit is a customer favorite is the incredible durability of the product, and its ability to load up to two-hundred and fifty rounds in a single hour. That's a level of speed that you simply won't find with other reloading supplies. This is Titan Reloading's highest rated kit, and we recommend it to all customers, whether it's your first time reloading ammo or you've been doing it for years.
Lee Breech Lock Challenger Press Kit
Although this might be a more economical option than the turret press kit, that certainly doesn't mean that it's lower quality. Featuring a slightly different setup, it's designed for those customers who prefer to prime off the press. Purchased separately, the components that make up this case would run you $192. However, with this great deal, you can get everything (except for the dies) in a single reloading kit for the dies for the low price of just $122.49. The reviews for this kit have been all around favorable.
Lee Breech Lock Hand Press Kit
If you don't have a workbench to mount your reloading kit to, or you're on a budget and need to find the most economical reloading supplies, then this hand press kit may be just what you're looking for. At just $54.59 it's a steal, but that doesn't mean that it's lacking in quality. This kit is a favorite of first time loaders, and everyone who doesn't have much space for a larger press kit. One of the advantages of this kit that our dear customer Fred points out is "I take it with me when I travel so I'm not just limited to reloading when I'm at home."
Buying from Titan Reloading
At Titan Reloading we pride ourselves on only stocking the highest quality reloading supplies. Our kits are affordable, and of great quality. We are the proud home of Lee Precision, and the customer response to these highly engineered products has been phenomenal. To learn more about reloading, and how you can start saving money with your ammunition today, contact Titan Reloading at 262-244-7023 or visit www.TitanReloading.com. Happy reloading!