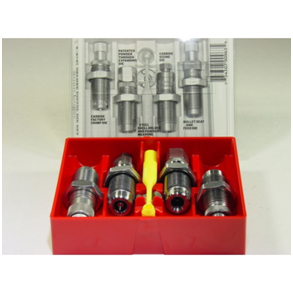 As a retailer featuring the full line of Lee Precision
reloading supplies
, we often get questions about which die set is right for a rifle or pistol. The process should begin with the purpose of the ammunition. Here are tips on choosing the right dies for any use.
Pacesetter Dies Are for Semi-Auto Action Rifles
The Lee Pacesetter and RGB Series dies allow you to produce factory-sized ammunition for any rifle, starting with semi-automatic actions. If you have casings fired in other rifles or you regularly reload multiple firearms, the Pacesetter and RGB dies are a good fit for you.
Collet Neck Sizing Dies Are for Precision
Lee's Collet Neck Sizing Dies are for precision shooting from a single rifle. If you have used casings in one rifle and plan to reload for the same firearm, this choice of dies is ideal. No resizing lubricant is necessary.
Ultimate Rifle Die Set Is for Versatility
When you need reloading supplies for multiple guns and have cases used in other rifles, you need a solution like Lee's Ultimate Rifle Die Set, which includes the Factory Crimp Die. This crimp is perfect for bottleneck cartridges and will improve accuracy while you're on the hunt.
Carbide Three Die Sets Are for Controlled Brass
When reloading cases fired in handguns, the Carbide Three Die Set is a quality solution. Standard Lee Handgun Dies include the Carbide Sizing Die perfect for resizing cartridges for straight-walled pistols.
Carbide Deluxe Four Die Set
If you are looking for a carbide die set that includes a Factory Crimp Die the Lee's Deluxe Four Die Set is the choice. The Carbide Factory Crimp Die is included in this set, a tool that allows users to separate bullet seating from crimping. Sizing features ensure casings will chamber in any handgun.
Lee Precision reloading supplies are available for all types of handguns and rifles at Titan Reloading. For further information or questions, please contact us at 262-244-7023 or visit www.TitanReloading.com. Let Titan Reloading get you started reloading today.