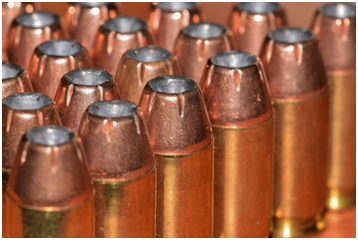 The Lee Classic Cast Turret Press Kit is the machine that does it all! The purpose of a turret press is for you to reload cartridges quickly and efficiently. When you place a single stage press, a turret press, and a progressive press side-by-side, you see that the turret is a hybrid between the single stage and the progressive. The Turret Press Kit is ideal for the reloader wanting speed and quality at an affordable price.
Speed and Versatility 
The Turret Press Kit (product # 90304) is capable of reloading any center-fire cartridge ranging from small critter calibers to large magnum cartridges. Your reloading speed increases dramatically over a single stage (that requires changing out dies between stages). The Lee Classic Cast Turret Press Kit holds up to four dies from which you can complete rounds without the time consuming need to change dies. You simply rotate the turret to advance to the next stage.
The common station set up uses 4 dies: 1. resizing/decapping, 2. case mouth expansion/powder charging, 3. bullet seating, and 4. factory taper crimp. With each handle pull, the die plate rotates to the next station without needing to screw in a different die. Your speed also increases via the powder dropping from a mounted powder measure through a hollow case mouth expansion die. Your ammo production greatly increases over that of a single stage press.
Quality and Durability
An ammo reloading press is a tool. A quality tools should withstand wear and tear especially through reloading. The Lee Classic Cast Turret Press is a premium quality tool made from heavy-duty materials. The cast iron, steel, and hardwood finish on the lever are strong, durable materials intended to endure use for many years to come and thousands of ammo rounds. The sturdy steel joints won't break and the clearance area is designed to work with different types of rifle cases.
You won't find a more versatile, solidly built turret press for a price this low any where. Some progressive presses may have some added functionality but most of the parts are sold separately.
The Turret Press Kit is a valuable tool that belongs on any ammo reloading work bench. Why pay more for anything less?
For further information and/or questions about our Lee turret press kit or any other product please contact Titan Reloading at 262.397.8819 or to peruse and shop our online store please visit www.TitanReloading.com – the Master Distributor of Lee Precision reloading equipment & supplies at.