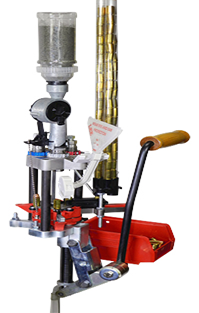 The Lee 4000 Press available at the industry professionals at Titan Reloading is ideal for avid shooters to save money by making their own ammunition. For competitive shooters and hunters the biggest ongoing expense is buying and rebuying ammunition. The Pro 4000 Press provides an easy and safe method to make your own.
The Lee Pro 4000 Press is the most affordable and easiest to operate four-station progressive press on the market today. The Pro 4000 from Lee Precision has all of the incredible benefits and features of the Pro 1000 with a fourth station added to allow for factory crimping and post sizing.
Press priming is quick and dependable, making this press ideal for loading mixed range or well used brass. It is also ideal for basic case preparation processes such as depriming before a tumble cleaning session. You can deactivate the auto index function and the press acts as a handy and reliable single station press.
Among the features and benefits of the Lee Pro 4000 Press include:
Easy carriage changeover in just seconds, including primer size with no additional adjustments having to be made.
Attached bin and bracket to catch completed rounds.
Automatic case advancement setting up to 2 5/16", with longer cartridges loaded and advanced manually.
Automatic universal case feeder.
Color coded spline drive, quick change breech lock bushings.
Easy to use process for installing and adjusting various dies.
Ergonomic wood grip roller handle.
Exclusive auto case placer.
Four breech lock bushings.
Hex wrench for shell plate change and storage rack for tools, a $30 savings compared to other brands.
Large and small sized safety prime and priming arms, allowing for safer dispensing of primers of all sizes and brands.
Unique design features allow as much or as little automated control as desired with no adjustments to be made.
Among the most common reasons shooting enthusiast use presses to reload ammunition include:
Customize Bullets
Recreate Obsolete or Unavailable Ammunition Types
Rare Bullet Types
Cost Effective
Whenever operating the Lee 4000 Pro Press or any other reloading equipment, it is always essential to practice strict safety procedures and adherence to the press manual.
An impressive team of industry specialists at Titan Reloading is dedicated to providing novice and veteran shooting enthusiasts top quality reloading supplies to produce ammunition at a fraction of the cost of purchasing complete ammunition.
For further information or questions please contact Titan Reloading today at 262.397.8819 or visit www.TitanReloading.com to peruse and shop from our extensive inventory.