More than few times, we've heard the same reasons for not getting into ammo reloading are the startup cost and not enough space in your home. With the right reloading supplies, it doesn't have to be either of those. Reloading is a great relaxing hobby that doesn't need to be expensive nor take up muchroom.
Ask for Help
Reloading your own ammo doesn't need to be complicated. Many beginners start with reloading supplies and equipment that consist of no more than a single stage press, a basic set of dies, a powder measure, and a beam scale.
For experts, it's their gusto for the hobby that overexcites… and that's not a bad thing. Regardless of your skill level, don't hesitate asking for help or a second opinion. Here at Titan Reloading, we're happy to answer any questions you might have about reloading supplies and/or the use of our equipment.
Start Small and Simple
You probably don't want to dedicate a large space in your home when getting started. Fortunately, there are great space-saving solutions such as using a bench in your garage orbasement.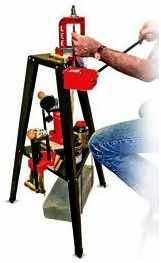 However, maybe you don't have enough space in your garage or basement. In that case, your reloading supplies and equipment solution can be afolding workbench you pull out to use almost anywhere.
A portable reloading bench isn't only for the beginner. These also come in handy for more advanced reloading hobbyists who occasionally need more space next to their dedicated bench. This means when a beginner becomes an intermediate or expert, the workbenchis still utilized.
Another great use is taking it along to do some testing with your reloading supplies. You can reload on the spot at your favorite firing range. You're able to test and fine-tune countless combinations of reloading components in a single trip.
When You're Ready to Grow Your Reloading Hobby
Your hobby will grow. You'll become one of the enthusiasts with a dedicated reloading bench. You'll be the expert talking to new friends about getting started. Your dedicated bench will need more space. And we have the solution.
The Lee Bench Plate is the perfect accessory for the reloader looking to quickly change between presses on their bench. You'll get more use from your existing workspace.In fact, experts who progress to training beginners find this to be very useful for frequently changing out different presses.
Here's another money saving tip. Not only will you save money reusing your own brass, you can also pick up free brass found at the range.
To learn more or peruse and shop our online store please visit www.TitanReloadng.com or contact Titan Reloading the Master Distributor of Lee Precision reloading equipment & supplies at 262.397.8819 for further information.