You can subscribe to this Newsletter if you sign up for an account with Titan Reloading.
CLICK HEAR TO REGISTER AN ACCOUNT
CLICK HERE To browse an archive of past newsletters.

APRIL 2015 NEWSLETTER
It's no wonder that the Harley-Davidson motorcycle was invented right here in Milwaukee Wisconsin? With only a few days since early December that temperatures have been above freezing and there are scooters out and about everywhere. I have to admit I am tempted to through the battery in the Hog myself as 55 degrees feels like summer. I always stick to my rule of waiting for a good rain to wash the salt off the roads first and according to the forcast this will happen tonight. All is GOOD!
Check out our new Titan Reloading Hats.
These logo hats are durable, high quality, adjustable baseball caps with fully embroidered logo.
We are truly enjoying all the friends we have made through Titan Reloading and look forward to many more. Feel free to contact us. When possible, please email us rather than call. Due to our limited phone system and staff we are able to respond to your questions quicker via email. Please include your full name or order ID number with any order inquiries. Service and Support is our top priority. As always, you will find many answers to questions in the "FAQ" and "Help Videos" areas of our website www.titanreloading.com . Check us out on Google+ and Facebook .
Dennis / Titan Reloading
FEATURED PRODUCT:
JUST ARRIVED
LEE CLASSIC POWDER MEASURE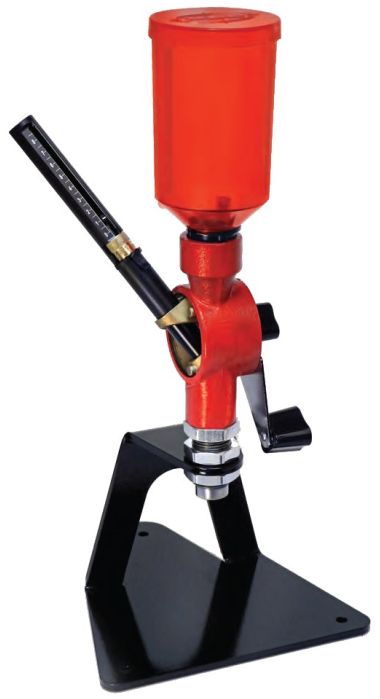 The latest addition to the Classic Cast line of reloading tools is the Lee Classic Powder Measure. No powder measure, regardless of price, has all the features of the Lee Classic Powder Measure.
Rugged Construction
This powder measure features a machined cast iron body; no other material has the heft, stability and rugged appearance that cast iron offers. The precision-machined rotor drum is cast from brass, which is naturally antistatic and spark proof. The standard 7/8–14 threaded drop tube mounting shank fits all popular reloading presses. No extra stand or bracket required.
Eliminates Cut Powder and Jerky Action
A soft elastomer wiper strikes off the metering chamber rather than cut the powder. You'll be surprised at how smoothly the rotor operates. More importantly, you will enjoy the most uniform of changes.
Easy to Set and Read Micrometer Metering Chamber
Powder charge adjustment is accomplished with a true micrometer adjustable metering chamber. The metering chamber is aluminum with a black anodized finish and features a crisp, permanent, laser engraved scale. The brass micrometer thimble is engraved with .01cc graduations and has a releasable detent lock. With most rifle powders each click is about a 1/10 of a grain, perfect for working up a load.
Changing Powder is Fast and Easy
The Classic Powder Measure features an easily removable ½ pound capacity hopper with an on/off valve so you can quickly return unused powder to its original container or switch to another type. The hopper feeds to a pre-measuring chamber allowing precise charges regardless of the powder level in the hopper, no additional powder baffle required.
NOTE: Pictured above on the optional stand 90587 (SOLD SEPARATELY-CLICK HERE).
INSIGHT OF THE MONTH:
Proper case lubrication and frequency of lubrication
When full length sizing cases in non-carbide dies, it is necessary to properly lubricate the case and the inside of the case neck so that it will not get stuck during resizing into the steel die. With a properly lubed case, our Reloader Press or Breech Lock Hand Press will easily accomplish proper resizing of even the largest of magnum cases.
If you are resizing rifle or handgun cases in a steel die, you should lube every case. If you are sizing pistol cases in a Lee carbide die, lube every 25th case or so to make resizing easier.
Using Lee Resizing Lubricant 90006, spread a small amount around the case from below the shoulder down to the rim so that there is a thin film. With the small amount of film that remains on your finger, "scrape" some into the inside of the case neck. Even though it's only on one side of the inside case neck, resize the case. Additional cases that have had the same procedure ensures that the decapper / expander inside the sizing die is properly lubricated. This method is far easier and faster than using the many utensils meant to completely coat the inside of the case neck.
Although you are not required to lube cases for use in carbide dies, we have found that if you just briefly roll the cases around in a cloth that has a light amount of oil on it, the increased ease of case sizing is very noticeable.