You can subscribe to this Newsletter if you sign up for an account with Titan Reloading.
CLICK HEAR TO REGISTER AN ACCOUNT
CLICK HERE To browse an archive of past newsletters.

APRIL 2017 NEWSLETTER
Titan Reloading is very pleased to announce our new distributor status with Redding Reloading Equipment.

Proudly Manufactured in America Since 1946
Redding Reloading Equipment is a premier manufacturer of reloading equipment for metallic rifle and handgun cartridges. The company has a long history of innovation and the development of unique and Patented products, which may be used to produce the finest and most accurate hand loaded ammunition possible. All Redding products are made only in their Cortland, NY facility, from American Steel, with Castings from Pennsylvania and on 100% American Made machinery.
Redding offers numerous unique solutions to improve the accuracy, consistency and reliability of your hand loaded ammunition.
We are truly enjoying all the friends we have made through Titan Reloading and look forward to many more. Feel free to contact us. When possible, please email us rather than call. Due to our limited phone system and staff we are able to respond to your questions quicker via email. Please include your full name or order ID number with any order inquiries. Service and Support is our top priority. As always, you will find many answers to questions in the "FAQ" and "Help Videos" areas of our website www.titanreloading.com . Check us out on Google + and Facebook .
Dennis / Titan Reloading
FEATURED PRODUCT:

MEC Shooting Sports is pleased to introduce its latest new product offering, the all new MEC Marksman to the metallic reloading enthusiast. As an industry-leading manufacturer of shotshell reloading presses and equipment, MEC brings its knowledge and expertise to the metallic reloading marketplace. The MEC Marksman single stage metallic reloader and accessory products are made in the USA in Mayville, WI.
The MEC Marksman is made from ductile cast iron for superior quality and durability. Our patent-pending self-centering shell holder provides greater accuracy and consistency to every reload. The MEC Marksman is compatible with all 7/8-14 thread dies to change calibers quickly. Reload .22 Hornet to .416 Rigby all with one convenient machine.
In addition to the MEC Marksman, the Metallic line will include reloading accessories and essentials. Powder measure, powder trickler, scale and calipers are available to complete the MEC Marksman reloading experience. An additional base is available for easy installation and is compatible with the MEC Jig Fixture mounting system. Case prep tools and components are also available.
With over 60 years of shooting sports experience, the addition of the MEC Marksman continues the reloading heritage from the BRAND YOU TRUST!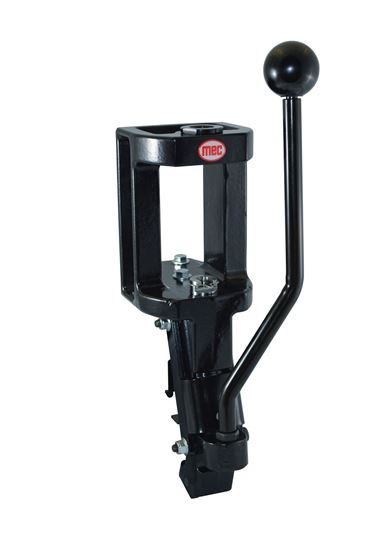 INSIGHT OF THE MONTH:
DIE SET EXPLANATION

Pacesetter 3 Die Set
Use these dies if you want to produce factory dimensioned ammo that reliably fits and feeds in any gun. They are the first choice for semi-auto actions. Full-length sizing is a must if you are reloading for more than one firearm or reloading cases that were fired in others firearms. Includes a full length sizing die, bullet seating die, factory crimp die, shell holder, powder dipper and load data. This set is recommended for assembling ammunition for hunting purposes as the finished rounds chamber easily and can withstand rough handling of the firearm action.
Pacesetter 2 Die Set
Same as above, but production quantities are lower. This set consists of a two die set which includes a full length steel sizing die (requires case lubrication), bullet seating die, shell holder, powder dipper and load data.
Collet Die Set
Use these dies for best accuracy, longest case life and no resizing lubricant. Only the neck of the case is resized the body is untouched so it retains the perfect fit to your guns chamber. Cases should have been fired in your firearm only and reloaded rounds are intended for use in just one firearm. These dies are the favorite of the bench rest crowd as there is no other die that can produce a more accurate cartridge. Includes the Collet neck sizing die, dead length bullet seating die, shell holder, powder dipper and load data.
This set is designed for assembling the most accurate ammunition but is not recommended for hunting rounds as the case is neck sized only and the bullet is not crimped in the case.
Ultimate Rifle 4 Die Set
Includes both the full length sizing die (requires case lubrication) and Collet neck sizing die, Easy adjust dead length bullet seating die, Factory Crimp Die, shell holder, powder dipper and load data.
This is essentially a Collet die set with the addition of the steel full length sizing die and factory crimp die so that one can prepare newly acquired cases for the first firing in the rifle.
RGB 2 Die Set (Really Great Buy)
Comes as a standard two die rifle set that contains a full length sizing die and a bullet seater die. This set is designed to meet a tight budget and contains only the dies.
Pistol Carbide 3 Die Set
Carbide handgun dies contain the carbide sizer, the powder through expanding die, the seater/crimping die, a powder dipper, shell holder and load data. The seater/crimper die applies a modified taper crimp and eventually a roll crimp negating the need for a separate taper crimp die.
Deluxe Pistol 4 Die Set
Includes our popular three die carbide handgun die set explained above plus the addition of our Lee Carbide Factory Crimp Die. This additional die has a carbide ring that post sizes your case ensuring that your loaded cartridge will fit into the chamber of your gun. Additionally, the degree of crimp is determined by the finger adjustable crimp knob on top of the die. This die is meant to work in conjunction with your bullet seating die as it has no provision for seating the bullet itself.