You can subscribe to this Newsletter if you sign up for an account with Titan Reloading.
CLICK HEAR TO REGISTER AN ACCOUNT
CLICK HERE To browse an archive of past newsletters.

DECEMBER 2013 NEWSLETTER
Well….deer hunting went about as well as the fishing did this summer. There were plenty of coyote tracks in the snow but no deer sign to speak of. Oh well….there's always next year.
Lee Precision is adding some new products in 2014, many of which have been in demand. The following list of items will be available starting in early January.
90447-.380 ACP Deluxe Pistol 4 Die Set
90567-.204 Ruger Factory Crimp Die
90596-6.5 Grendel Factory Crimp Die
90807-9mm Makarov Carbide Factory Crimp Die
90745-.338 Lapua Magnum Factory Crimp Die
90689-.300 AAC Blackout Quick Trim Die
90462-.338 Lapua Case Length Gage
90589-8x56R Case Length Gage
90491-.32 Win Special Case Length Gage
90791-6.5 Rem Mag Case Length Gage
90554-450 Marlin Case Length Gage
90307-Double Cavity Mold TL309-250-5R
90601-Double Cavity Mold TL356-95-RF
90672-Six Cavity Mold TL356-95-RF
90691-Twelve Cavity Round Ball Mold .490 Diameter
Lee will be packaging the new Quick Trim Cutter in both 90030-Breech Lock Challenger Kit and 90050-50th Anniversary Kit. Also, there are nine rifle calibers that will now be packaged in an "Ultimate Rifle 4 Die Set". See the featured product below for more details on this.
We are truly enjoying all the friends we have made through Titan Reloading and look forward to many more. Feel free to contact us. When possible, please email us rather than call. Due to our limited phone system and staff we are able to respond to your questions quicker via email. Please include your full name or order ID number with any order inquiries. Service and Support is our top priority. As always, you will find many answers to questions in the "FAQ" and "Help Videos" areas of our website www.titanreloading.com
Dennis / Titan Reloading
FEATURED PRODUCT:
New in 2014
Ultimate Rifle 4 Die Sets
Choose this die set for maximum versatility.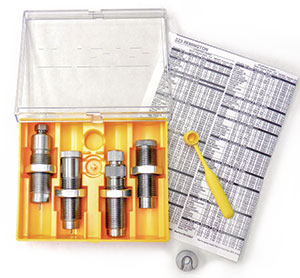 The set features a full length-resizing die to return brass to factory new dimensions, perfect for reloading brass fired in other guns. The Collet Neck sizing die is used on your fire formed brass giving you best possible accuracy. No case lube required and cases last almost forever. The Easy Adjust Dead Length Bullet seating die foolproofs the bullet seating adjustment, and assures perfect seating depth every time. The Factory Crimp die provides a secure crimp on bullets with or without a crimp groove. In most cases it helps accuracy by providing a uniform higher start pressure and gives the finished cartridge Factory like accuracy and dependability. The set is complete, with shell holder, powder measure and famous Lee load data featuring all common brands of powder organized in a easy to read logical format.
Includes:
Full Length Sizing Die which needs lubrication
Collet Die which sizes the neck
Dead Length Bullet Seating Die
Factory Crimp Die
Universal Shell Holder
Powder Dipper
Instructions
Load Data
Storage Box
CALIBER LIST :.223 Rem, .22/250, .243 Win, .270 Win, 7mm Rem Mag, .30/30, .308 Win, .30/06 and .300 Win Mag.
INSIGHT OF THE MONTH:
Full Length Sizing vs. Neck Sizing
Full length sizing dies such as our Pacesetter Dies, return the entire spent cartridge to a degree that will chamber in any rifle for that caliber. Lee Dies size cases as minimally as possible while still ensuring proper chambering so that your brass is not "overworked" by the die. It is necessary to lubricate the case prior to full length sizing.
We recommend full length sizing when shooting fired brass for the first time in any rifle. It is also the preferred technique for rifles intended to be used for hunting so that rough handling of the ammunition through the magazine and chambering does not become a factor for error.
Neck sizing with Lee's Collet Dies generally provides increased accuracy because the spent cartridge becomes "fire formed" to your specific chamber. No case lube is necessary because the die is only pressing the neck against the mandrel in the middle of the die. Neck sizing is only preferable when reloading cases that have been fired out of your rifle. They are primarily designed for accuracy when using a bolt action rifle for target use. Collet neck sizing results in cases lasting up to ten times longer without the need for trimming near as often, as when full length sizing.
The Dead Length Bullet Seater that comes with Lee's neck sizing dies is designed for accuracy and does not crimp the case as does the seater/crimper in our Pacesetter dies. It is designed to touch the shellholder to eliminate clearance in the press for a more uniform bullet seating depth. Crimping is seldom necessary for target work.
The Deluxe Rifle Die Set includes Lee's Neck Sizing kit along with a full length sizing die. This is because you may obtain brass that has not been fired in your rifle and it allows you to prepare the case for its first firing in your rifle. Remember, it is necessary to lubricate the case for the full length sizing die only. After your first firing only the collet sizing die is required.
The Ultimate Rifle Die Set includes the same dies as the Deluxe Rifle Sets with an added Factory Crimp Die.