You can subscribe to this Newsletter if you sign up for an account with Titan Reloading.
CLICK HEAR TO REGISTER AN ACCOUNT
CLICK HERE To browse an archive of past newsletters.

JANUARY 2021 NEWSLETTER
RELOAD WITH CONFIDENCE!
What's Your TITAN Advantage?….WE RELOAD!
***Your Reloading Specialists***

It's a new year. Before we move forward, the Titan Crew and I would like to thank all of you for your interest in Titan Reloading and pledge our continued effort to provide the most complete lines of reloading equipment, components and support for your reloading needs. We have many new friends all over the world and enjoy the opportunity to know you. May you all have a Very Happy and Prosperous New Year!
We have temporarily suspended all Back-ordering and Pre-ordering due to unpredictable stock availability. Unprecedented demand for reloading equipment has our suppliers behind on fulfillment. We have an absolute ONE PER CUSTOMER limit on all reloading equipment during this inventory shortage to keep prices down and items in stock for all. Use our 'Notify System' found in every listing for in stock updates.
BEWARE: We are seeing many Delays with USPS. USPS Priority Mail 1-Day, 2-Day or 3-Day is only an estimate during normal times and IS NOT a Guaranteed Delivery.
As per the USPS Website: Alert: USPS is experiencing unprecedented volume increases and limited employee availability due to the impacts of COVID-19. We appreciate your patience and remain committed to delivering the holidays to you.
UNTIL FURTHER NOTICE WE HAVE SUSPENDED ALL
INTERNATIONAL SHIPPING DUE TO UNPREDICTABLE DELIVERIES
We are truly enjoying all the friends we have made through Titan Reloading and look forward to many more. Feel free to contact us. When possible, please email us rather than call. Due to our limited phone system and staff we are able to respond to your questions quicker via email. Please include your full name or order ID number with any order inquiries. Service and Support is our top priority. As always, you will find many answers to questions in the "FAQ" and "Help Videos" areas of our website www.titanreloading.com . Check us out on YouTube .
Dennis / Titan Reloading
FEATURED PRODUCT: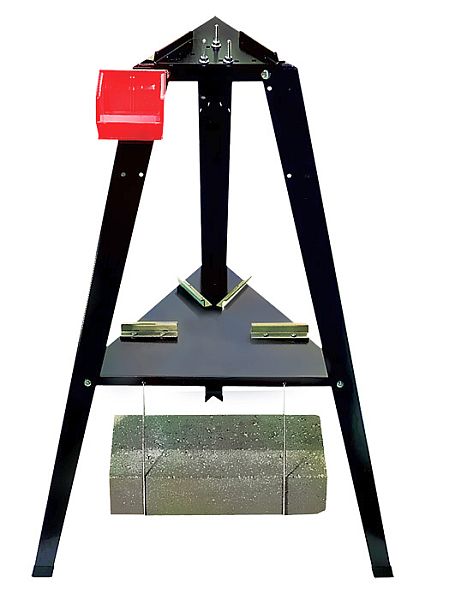 Introducing the Lee Reloading Stand, perfect for the reloader with limited working space, an overwhelmed workbench, or someone looking for solution to portable reloading needs. The sturdy powder coated steel stand places your press at the perfect counter stool or standing height of 39″. The 10 inch triangular steel top plate uses the Patented quick change Lee Bench Plate system. The stand is 26″ wide by 24″ deep so it does not require a lot of room.
There's more, the reloading stand includes a sturdy steel shelf with two bench plate receivers that will neatly and securely store your extra presses or mountable accessories. Included with the stand is one storage bin for component or tool storage, which clips onto the steel bin bracket provided with the stand. Each leg has eight mounting holes that allow you to accessorize your stand with a multitude of bins, shelves or accessory die racks. Includes drawing to customize and make your own extended work surface. This reloading stand is perfect for the apartment-dweller or anyone who is limited on space.
: Fits all Lee metallic presses (Fasteners for mounting one press are included).
: Powder-Coated Steel
: Comes with 1 storage bin and bracket, the top plate, the bottom shelf, 1 drilled Steel Base Block and the complete fastener set for top plate and bottom shelf along with two steel concrete block hangers.
NOTE: The press and concrete block shown in the picture are not included. Concrete block is necessary for safe, stable operation. Obtain one at any building supply or home center.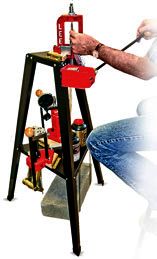 INSIGHT OF THE MONTH:
Full Length Sizing vs. Neck Sizing
Full length sizing dies such as the Lee Pacesetter Dies, return the entire spent cartridge to a degree that will chamber in any rifle for that caliber. Lee Dies size cases as minimally as possible while still ensuring proper chambering so that your brass is not "overworked" by the die. It is necessary to lubricate the case prior to full length sizing. We recommend full length sizing when shooting fired brass for the first time in any rifle. It is also the preferred technique for rifles intended to be used for hunting so that rough handling of the ammunition through the magazine and chambering does not become a factor for error.
Neck sizing with Lee's Collet Dies generally provides increased accuracy because the spent cartridge becomes "fire formed" to your specific chamber. No case lube is necessary because the die is only pressing the neck against the mandrel in the middle of the die. Neck sizing is only preferable when reloading cases that have been fired out of your rifle. They are primarily designed for accuracy when using a bolt action rifle for target use. Collet neck sizing results in cases lasting up to ten times longer without the need for trimming near as often, as when full length sizing.
The Dead Length Bullet Seater that comes with Lee's Collet dies and most of the Pacesetter Dies is designed for accuracy and does not crimp the case as does the seater/crimper dies. It is designed to touch the shellholder to eliminate clearance in the press for a more uniform bullet seating depth. Crimping is seldom necessary for target work.
The Ultimate Rifle Die Set is the Lee Pacesetter die set that also includes Lee's Neck Sizing die along with a full length sizing dies. This is because you may obtain brass that has not been fired in your rifle and it allows you to prepare the case for its first firing in your rifle. Remember, it is necessary to lubricate the case for the full length sizing die only. After your first firing only the collet sizing die is required.
Titan Reloading 994 W. Sumner St., Hartford, WI 53027 1-262-397-8819
WE'RE SETTING THE STANDARD, ONE CUSTOMER AT A TIME.
You are receiving our monthly Titan Reloading Newsletter because you subscribed to it when you set up your account on our website www.titanreloading.com. We don't want you to miss out on the newsletters we send you. We also respect all our valued customers consent. That is why we are asking all of our readers to decide if they would like to discontinue receiving newsletters from Titan Reloading. If you'd like to stop receiving our newsletters please click the "unsubscribe" link at the bottom of the newsletter.