JULY 2022 NEWSLETTER
RELOAD WITH CONFIDENCE!
What's Your TITAN Advantage?….WE RELOAD!
***Your Reloading Specialists***
HAPPY BIRTHDAY AMERICA!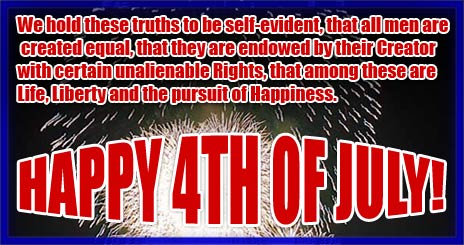 The Titan Crew is wishing all of our fellow Americans an Independence Day full of family and reflection. Take a moment to consider the spirit of our Founding Documents and what is happening to our freedoms as we redefine the meanings. The strength of our country comes from the self reliant individuals who are a part of a larger cause, not in the notion of a collective society were those who do not pursue happiness are still entitled to it. Our Constitution guarantees our opportunities…not our outcomes. We must teach this spirit to our children lest they only hear the redefined versions of responsibility so popular in educational circles today.
We are truly enjoying all the friends we have made through Titan Reloading and look forward to many more. Feel free to contact us. When possible, please email us rather than call. Due to our limited phone system and staff we are able to respond to your questions quicker via email. Please include your full name or order ID number with any order inquiries. Service and Support is our top priority. As always, you will find many answers to questions in the "FAQ" and "Help Videos" areas of our website www.titanreloading.com . Check us out on YouTube .

Dennis / Titan Reloading
FEATURED PRODUCT:
Available summer 2022
The culmination of nearly 40 years of progressive press design and production. Years of comments and suggestions have been incorporated into this new press.
Includes:  Six Pack Reloading Press, bin and bracket and universal case feed magazine.
Reloading dies, Shell plate, Auto Drum Powder Measure and rifle short or long charging dies sold separately. (Pro 6000 Kit s available)
Features:
Six stations allow any brand of die be used in line bullet feed dies, powder check dies and such.
Simple and reliable automatic indexing just one moving part, replaceable in seconds, no tools required and never requires adjustment.
Stroke and clearance sufficient for largest magnum rifle cases. Uses the same all steel linkage found on our Classic Cast 50 BMG press.
Massive 28.4mm ram glides through 82 mm of solid steel giving the ram over 7300 mm2  of solid support.
Spent primer tube collects dirty, gritty spent primers.
All dies securely fastened in the upper die carrier with the LEE Breech lock quick die change system. No more turret or tool head to replace or move during use.
Automatic priming system  simple, reliable and safe with any brand or size of primer. Primes at the bottom of stroke so all six stations are available for operations.
Automatic case inserter works with any case. Cases can be manually fed through the convenient loading port.
Easy to set case retainers on every station. No springs, plugs or buttons to loose or tinker with.
Cartridge changeover in seconds, including primer size with no adjustments.
Automatic case ejector reliably whisks away your completed round to the ammo bin. Press includes combination tool rack, bin bracket, along with free ammo bin.
Product information:
| | |
| --- | --- |
| Base material | Steel |
| Columns material | Steel |
| Ram | Steel |
| Ram diameter | Over 1″ |
| Linkage | Steel |
| Shell plate carrier material | Steel |
| Shell plate carrier cover material      | Zamak 5 Zinc |
| Tool head material | Aluminum |
| Die size accepted | 7/8″ x 14 |
| Number of die mounting holes | 6 |
| Breech Lock Quick Change bushings | Yes |
| Priming feature | Yes, no primer brand restriciton |
| Spent primer collection tube | Yes |
| Country of origin | Proudly made in USA |
INSIGHT OF THE MONTH:
How to Properly Reload a Cartridge
The fundamental steps for reloading a cartridge can be reduced to a few basic operations. Additional operations and reloading supplies will be required in some situations or omitted in others.
1. Inspect and clean cases. Clean dirt and grime from each case before inspecting for deformities and splits. A sonic cleaner is good for removing carbon buildup and oxidization. To clean and polish brass, use a tumbler.
2. Deprime the brass. Use a dedicated decapping die to punch the old primer out of the casing bottom, or (more common) the die that resizes your brass will also knock the old primer out.
3. Lubricate cases to prevent them from getting stuck in the sizing die.
4. Resize the brass. A resizing die is used to bring the brass back into the correct exterior dimensions.
5. Trim the case to specified length if needed. Fired brass can lengthen beyond safe limits. Use calipers or a case gauge to check the length. Trim as required.
6. Clean the primer pocket as required.
7. Prime with correct primer size and manufacturer according to the reloading manual.
8. Weigh and load the correct powder charge with a powder funnel. Double-check your reloading manual for data on powder type and proper load for your bullet weight and cartridge.
9. Select proper die and adjust for proper seating depth. See your manual for proper settings.
10. Review your setup.
11. Run preliminary test rounds and examine each step for correct results.
12. Complete a batch with periodic checks for accuracy.
Getting Started with Reloading Supplies Reloading kits are great for beginners getting into this fun and rewarding hobby. The cornerstone of a reloader's workbench is the press. It enables you to almost effortlessly complete functions with a pull of the handle. Different kits include different tools. The main press styles are single stage, turret, and progressive. Your shooting preferences and the amount of ammo you want to load help determine the most suitable press and other reloading supplies for you. Titan Reloading is dedicated to helping novice and veteran shooting enthusiasts safely and properly reload their own ammunition every time.
Titan Reloading is a Master Distributor of Reloading Supplies & Equipment online. Choose from Lee Precision, Dillon, Hornady, Redding, Mec, & Lyman. For more information and/or to peruse and shop our online store please visit www.TitanReloading.com or contact Titan Reloading at 262.397.8819 with any questions.
Titan Reloading   994 W. Sumner St., Hartford, WI 53027    1-262-397-8819
WE'RE SETTING THE STANDARD, ONE CUSTOMER AT A TIME.