You can subscribe to this Newsletter if you sign up for an account with Titan Reloading.
CLICK HEAR TO REGISTER AN ACCOUNT
CLICK HERE To browse an archive of past newsletters.

JUNE 2015 NEWSLETTER
Memorial Day has come and gone but the Titan Crew wants to THANK ALL of our military veterans, past and present, for the sacrifices made to uphold the freedoms we enjoy every day. THANK YOU. Remembrance of those who gave all is the highest form of HONOR
We also extend our heartfelt support to all of our friends that have been hit by the spring storms. Looking back It seems that June of every year is when weather has changed people's lives. The storms are powerful, but not more powerful than the spirit of the people involved. We watch with pride as our fellow citizens drop what they're doing to help.
We are truly enjoying all the friends we have made through Titan Reloading and look forward to many more. Feel free to contact us. When possible, please email us rather than call. Due to our limited phone system and staff we are able to respond to your questions quicker via email. Please include your full name or order ID number with any order inquiries. Service and Support is our top priority. As always, you will find many answers to questions in the "FAQ" and "Help Videos" areas of our website www.titanreloading.com . Check us out on Google+ and Facebook.
Dennis / Titan Reloading
FEATURED PRODUCT: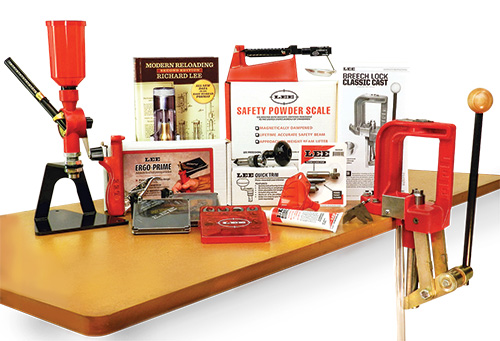 If you are getting started or moving up to the best, this kit is for you. The kit is built around the rigid, cast iron Lee Breech Lock Classic Cast Press with a Breech Lock Quick Change Bushing.
The kit also includes the new Lee Classic Powder Measure and the new universal powder measure stand. Complete case preparation tools including the new Deluxe Quick Trim Case Trimmer, primer pocket cleaner, chamfer tool, and cutter and lock stud for Lee Case Length Gauge trimming system.
Check your loads with the included Lee Safety Powder Scale.
Priming is accomplished with the Lee Ergo-Prime tool. The kit includes a complete set of shell holders for hundreds of cartridges.
The kit is completed with Modern Reloading. The complete guide to reloading featuring 167 cartridges with over 28,000 loads. This kit and a set of Lee dies gives you everything you need to setup the finest reloading system. Purchased separately it would cost nearly $485.00.
Includes the Classic Cast Breech Lock Press and one Breech Lock quick-change bushing.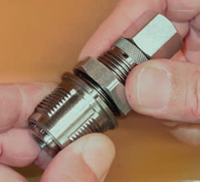 Specifications:
Press Type: Single Stage
Frame Material: Cast Iron
Frame Design: O Frame
Frame Offset: 30 Degrees
Frame Opening Size: 4-1/2″
Handle Location: Bottom Right or Left
Die Size Accepted: Standard 7/8″-14 Threaded Dies
Die Bushing Accepted: Yes
Die Bushing Brand Used: Lee Breech Lock Quick Change Bushings
Spent Primer Collection System: Yes
Ram Stroke: 4″
Ram Diameter: 1 1/8″
Priming Feature: LPS System
Number of Mounting Holes: 3
Mounting Hardware Included: No
Includes:
Classic Cast Breech Lock single stage press
1 Breech Lock Die Bushing
Lee Safety Scale
Classic Powder Measure
Powder Funnel
Deluxe Quick Trim
Lock Stud and Cutter
Lee chamfer tool
Primer Pocket Cleaner
Ergo Prime
Set of Auto-Prime Shellholders
Tube of Sizing Lube.
Note:
A Lee Case Length Gauge, sold on the Case Length Gauge and Shellholder page, will need to be purchased for each caliber being reloaded for the Lock Stud and Cutter.
A Lee Quick Trim Die, sold on the Quick Trim Case Trimmer page, will need to be purchased for each caliber being reloaded for the Value Quick Trim.
INSIGHT OF THE MONTH:
VMD Explanation
The Volume Measured Density (VMD) of a powder is the volume in cc's (cubic centimeter) that one grain of powder occupies. This can be used to calculate the dipper, disk cavity or powder measure setting required to obtain a desired weight of powder.
Example:
If a powder has a VMD of .1064 , and the desired charge weight is 4 grains,
4 x .1064 = .4256, or . 43 cc's
This would translate to the .3cc dipper, (because the next larger one is beyond.43 ccs) the .43cc disk cavity, and a .43cc setting on the Perfect powder measure.
Lee attempts to keep a current list of newer powders and their VMDs on the "Instructions" page of the Lee Precision website.
Determine a VMD on your own
Using any setting on your powder measure (preferably a whole number), drop a charge of the powder you wish to determine the VMD for. Weigh the charge. Divide the measure setting you used to drop the charge by the weight of the charge. The result is the volume (cc) of a single grain of powder (VMD)
CC setting (powder measure setting)
———————————————– = VMD (volume in cc's for 1 grain)
Weight of the sample
It is VERY IMPORTANT that you repeat this process with any new container of the same powder because the powder companies allow themselves a 16% tolerance between batches. This can result in over charging if you work from the same setting and the next container of powder you get is more dense. In any case, ALWAYS CHECK your powder drop with a scale to be sure that the desired load data grain weight is achieved.