MARCH 2022 NEWSLETTER
RELOAD WITH CONFIDENCE!
What's Your TITAN Advantage?….WE RELOAD!
***Your Reloading Specialists***
I am soooo looking forward to spring and all that it brings. It's been a somewhat mild winter but enough already. The birds have been a lot louder around here in the morning lately, but I can't tell if they're complaining ( like me ) or just happy to be this close. Either way, I like it. I'm hoping MLB can resolve their issues so all the boys can report for spring training and get the bats crackin' again, then all will good!
We are truly enjoying all the friends we have made through Titan Reloading and look forward to many more. Feel free to contact us. When possible, please email us rather than call. Due to our limited phone system and staff we are able to respond to your questions quicker via email. Please include your full name or order ID number with any order inquiries. Service and Support is our top priority. As always, you will find many answers to questions in the "FAQ" and "Help Videos" areas of our website www.titanreloading.com . Check us out on YouTube .

Dennis / Titan Reloading
FEATURED PRODUCT: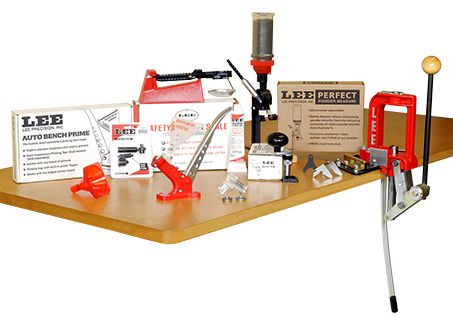 NEW IN 2022. This kit includes everything found in the 50th Anniversary Kit but includes a Bench Prime instead of a Safety Prime.
Includes the Breech Lock Challenger Press and one Breech Lock quick-change bushing.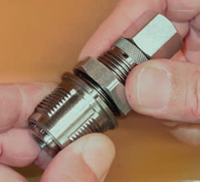 You get a complete powder handling system, with the most convenient and repeatable Perfect Powder Measure. Plus the Lee Safety Scale, the most sensitive and safest of all powder scales and fill your case with the included Powder Funnel. A $175.43 value.
Case Preparation Tools include a Value Quick Trim that allows you to trim the cases right on your press (order caliber specific trim dies separately) and a cutter and lock stud to trim your cases by hand (order caliber specific case length gauges separately). An included Lee chamfer tool chamfers the inside and outside of the case mouth and a tube of premium sizing lube is included. A small and large primer pocket-cleaning tool completes the case preparation package. $27.92 value.
But that's not all! You get the popular Bench Prime and three of the most popular priming tool shell holders which work with over 60 different cartridges.. This kit is ideal for those who want the flexibility of priming on the benchtop or off by mounting the tool to a piece of wood. $30.00 value.
Compare it to others priced at hundreds of dollars more. Reloading saves money and you save right from the start with Lee equipment.
Specifications:
Press Type: Single Stage
Frame Material: Die Cast Aluminum
Frame Design: O Frame
Frame Offset: 30 Degrees
Frame Opening Size: 4-1/4″
Handle Location: Bottom Right or Left
Die Size Accepted: Standard 7/8″-14 Threaded Dies
Die Bushing Accepted: Yes
Die Bushing Brand Used: Lee Breech Lock Quick Change Bushings
Spent Primer Collection System: Yes
Ram Stroke: 3-1/2″"
Ram Diameter: .815″
Priming Feature: No
Number of Mounting Holes: 3
Mounting Hardware Included: No
Includes:
Challenger Breech Lock single stage press
1 Breech Lock Die Bushing
Lee Safety Scale
Perfect Powder Measure
Powder Funnel
Value Quick Trim
Lock Stud and Cutter
Lee chamfer tool
Primer Pocket Cleaner
Bench Prime
Tube of Sizing Lube.
Note:
A Lee Case Length Gauge, sold on the Case Length Gauge and Shell Holder page, will need to be purchased for each caliber being reloaded.
A Lee Quick Trim Die, sold on the Quick Trim Case Trimmer page, will need to be purchased for each caliber being reloaded for the Value Quick Trim.
INSIGHT OF THE MONTH:
Back to the Future with Reloading

This is an article from our Titan Reloading Blog that I think is an interesting read for all reloaders. Hope you enjoy.
Do you know what were some of the most common items found in both frontier trading posts and general stores? Not surprisingly, the answer is ammo reloading supplies! Basic components like black powder, flash powder or caps, bullet molds, patches/wadding, lubricant, and other necessities for reloading and maintaining guns.Often, people even manufactured some of these reloading supplies themselves to save money and to be more self-sufficient.
Our forefathers began arriving in North America in the 15th century with more advanced weapons (for that time) and large stores of reloading supplies. The German-made Blunderbuss, an early version of the shotgun, was a favorite among early colonists. It featured a flared muzzle and a broad opening for fast and easy loading. Another common weapon was the Matchlock Musket, which used a match – in the form of a small burning rope to ignite gunpowder through a small hole in the gun's loaded barrel. American firearms and have come a long way since those times.
Pioneering the American Wilderness
The American tradition of making your own ammunition dates back to the Revolutionary War, and before. In 1776, a crowd of New Yorkers and a group of soldiers lead by General Washington tore down a lead statue of King George II and sent it to be melted into musket balls. In need of reloading supplies, soldiers often melted lead into slugs with hand clamp molds. Pioneers were also hand-pressing bullets at cabin firesides.
From the time of the earliest pioneers, gunsmiths were vital members of small settlements. It was these pioneering and skilled gunsmiths who developed the American long rifle that became known as the Kentucky, Ohio, or Pennsylvania rifle. Of course, the most important feature was the extended barrel with twisting grooves that guided whatever was used as a bullet to spin as it exited the barrel, ensuring a straighter shot and better aim. These rifles were so prized that they were often elaborately carved and decorated with finely etched brass or silver plates.
Without skilled gunsmiths and trading posts for reloading supplies, bringing civilization to the American wilderness would have certainly taken much longer and been much more difficult. In some ways, it's comparable with the modern reloader's back to the future solution to get around the national ammo shortage since the pandemic began.
Many other advances in gun technology and reloading supplies occurred between the Civil War and the early 20th century. The Spencer Repeating Rifle Company patented a design at the start of the Civil War capable of repeated firing from a single ammunition load (a favorite of President Abraham Lincoln). Innovations also included rear-loading and breech loading systems from Sharps, Maynard, and Burnside.
Today, the availability of different caliber and bullet types has increased exponentially with a matching availability of reloading supplies. The next time you are ready to place an order, take a moment to appreciate the history of ammunition and the advancements in gun technology along the way.
Titan Reloading 994 W. Sumner St., Hartford, WI 53027 1-262-397-8819
WE'RE SETTING THE STANDARD, ONE CUSTOMER AT A TIME.