MAY 2023 NEWSLETTER
RELOAD WITH CONFIDENCE!
What's Your TITAN Advantage?….WE RELOAD!
***Your Reloading Specialists***
The Titan Crew extends our heart felt support to all of our friends down south that have been effected by the resent violent weather. It's our faith that the people who built these communities will also rebuild them, one day at a time. You haven't lost everything, you still have each other, and that's the "American Way".
We are truly enjoying all the friends we have made through Titan Reloading and look forward to many more. Feel free to contact us. When possible, please email us rather than call. Due to our limited phone system and staff we are able to respond to your questions quicker via email. Please include your full name or order ID number with any order inquiries. Service and Support is our top priority. As always, you will find many answers to questions in the "FAQ" and "Help Videos" areas of our website www.titanreloading.com . Check us out on YouTube .

Dennis / Titan Reloading
FEATURED PRODUCT: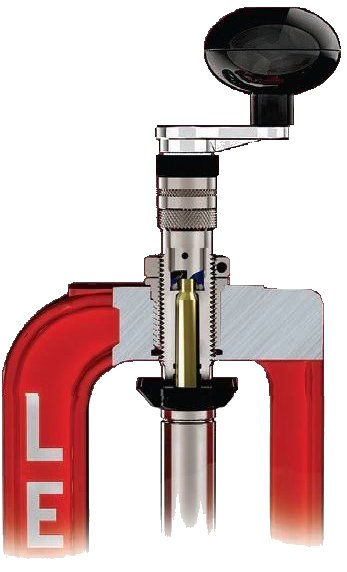 This is the newest case trimming system from Lee Precision. No calipers, measurements or adjustments are required. Simply install the appropriate quick trim die in your press and start trimming using either the Deluxe Quick Trim or the Value Quick Trim cutters. A click adjustable stop allows trim length adjustment in .001 of an inch increments. This allows the user to shorten cases to a uniform shorter length than standard, reducing trimming frequency. With this new system you can also trim calibers like .17 Rem and .204 Ruger to exact case lengths.
INSIGHT OF THE MONTH:
Cast Bullet Leading
A clue to what is causing the leading is where the leading first begins to appear. If it appears near the chamber, chances are that bullet diameter or hardness are the cause. A diameter too small and/or too hard an alloy will allow high pressure gas to leak past the bullet, which erodes the bullet and leaves leading near the chamber.
If the leading first appears on the leading edge of the rifling (if you imagine the bullet being pushed through the barrel, you will note that one edge of the rifling does most of the work of imparting a spin to the bullet. This is the edge you see when you look through the barrel from the breech end) the bullet might be too soft, and/or the velocity too high. A good rule of thumb for maximum velocities when using Liquid Alox is 1400 feet per second for plain base bullets and 2200 feet per second when using gas check bullets. Bore conditions will require you increase or decrease this velocity slightly to prevent leading.
If the leading appears in the second half of the barrel, the bullet is running out of lube. You should see a star shaped pattern of lube accumulate on the muzzle. This is an indication that there is a little excess lube.
Best results in applying Liquid Alox are when the alox is heated before applying, or thinned with paint thinner. This makes it flow more easily, and results in a more even coat. One technique is to boil water and pour it into a coffee mug, and then drop the bottle of Liquid Alox into the mug for about five minutes.
Place your freshly cast bullets into something about the size of a Cool Whip bowl and drop a few drops of liquid Alox on the bullets. Mix the bullets around until they are all coated. Lay the freshly coated bullets on some wax paper to dry. Liquid Alox will usually dry enough overnight to reload the next day, depending upon the humidity. Tacky bullets can be dusted with powdered graphite.
If you subscribe to the "more is better" line of thought, your coated bullets may never dry. Don't go for a "golden" color but rather just a light varnish. If you discover that your bullets are sticky the next day, you can get by with using a little less the next time. Keep reducing until the "stickiness" is gone by the next day.
If you are sizing your cast bullets, it is necessary to lube them first. Because the sizer will remove some of the surface of a larger diameter bullet, you may need to re-lubricate the bullets after they have been sized.
Many of Lee's bullets are of the "TL" or Tumble Lube design. These bullets have many shallow grooves that are perfect for allowing Liquid Alox to adhere to a great amount of surface. It has been reported that the accuracy of these bullets is high.
Titan Reloading 994 W. Sumner St., Hartford, WI 53027 1-262-397-8819
WE'RE SETTING THE STANDARD, ONE CUSTOMER AT A TIME.