You can subscribe to this Newsletter if you sign up for an account with Titan Reloading.
CLICK HEAR TO REGISTER AN ACCOUNT
CLICK HERE To browse an archive of past newsletters.

OCTOBER 2016 NEWSLETTER
Robin, the Titan Crew and I want to thank all of you for your nice comments on our new building. We are moved in now and fully operational in our new location at 994 W. Sumner St. in Hartford Wisconsin, although we have a little more organizing to do. Moving was a very hectic time but we are done and we all survived. Onward and Upward!
It is one year ago this month that Titan Reloading started carrying MEC Shotshell Reloaders and this has been a welcomed addition to our product line. MEC has definitely mastered the reloading of shotshells and they offer a number of really great presses in single stage to complete progressive operation. Check them out if you are looking to reload shotshells, you will be impressed.
We are truly enjoying all the friends we have made through Titan Reloading and look forward to many more. Feel free to contact us. When possible, please email us rather than call. Due to our limited phone system and staff we are able to respond to your questions quicker via email. Please include your full name or order ID number with any order inquiries. Service and Support is our top priority. As always, you will find many answers to questions in the "FAQ" and "Help Videos" areas of our website www.titanreloading.com . Check us out on Google+ and Facebook .
Dennis / Titan Reloading
FEATURED PRODUCT:
MEC 9000GN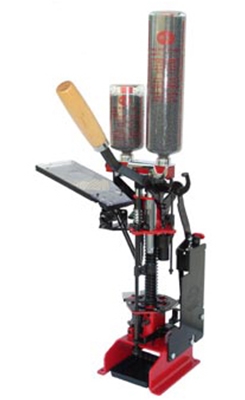 Mayville Engineering Company, foremost manufacturer of reloading equipment in America, is widely respected for its continuing dedication to precision engineering. This precision is incorporated into every one of MEC's reloaders rendering truly innovative and efficient engineering designs.
The 9000GN reloader is no exception. It is the latest in MEC's line of progressive machines. It is a hand-operated reloader. The 9000GN features automatic indexing and finished shell ejection. It allows you to resize any American and most foreign shells in either high or low brass. It can be converted to reload 3″ shells in 12 and 20 gauge only and will reload steel shot.
High-speed, high-volume reloading at its best.
The 9000GN has all the innovative features found on the 8567N Grabber, plus automatic indexing and finished-shell ejection for quicker and easier reloading.
The revolutionary Auto-Dex™ automatically moves the shells through each reloading stage by simply returning the handle to the top of its stroke. Accurately resized shells are achieved with each stroke.
Finished shells are automatically ejected from the shell carrier after final crimping. This time-saving feature makes one-more-hand operation obsolete.
Finished shells with every stroke
The fastest, smoothest indexing system ever made. The factory-set speed provides uniform movement through every reloading stage regardless of operator action.
PRESSES ON SALE IN OUR
HARTFORD SHOWROOM.
Call and ask about showroom pricing.

INSIGHT OF THE MONTH:
Shot Shell Crimp Problems
Crimp problems are usually caused by not having the correct wad length for the shell and components selected. If the crimp is too deep use a longer wad. If none are available, you can use a wad that is too short and use a fiber or a cardboard wad from a smaller gauge to take up the excess space. It is usually best to place this directly below the shot. Even a crumbled scrap of paper will do.
Sometimes a wad slightly long can be compressed in the wad starting station. Do this by moving the wad starter up 1/4 inch (for 3″ shells). Then use a 1/4 inch spacer under the shell. The spacer should have a hole in the center so nothing will touch the primer. A few washers work fine. This will then permit the wad to be seated deeper.
Poorly formed crimps can be caused by using the wrong crimp starter, 6 or 8 segment, or starting in the wrong place. Be sure to align exactly on the fold. With some brands of shells a better crimp is formed by starting exactly in the wrong place. That is where the shell previously folded out, recrimp with the fold in.