May 2020
You can subscribe to this Newsletter if you sign up for an account with Titan Reloading.
CLICK HEAR TO REGISTER AN ACCOUNT
CLICK HERE To browse an archive of past newsletters.

MAY 2020 NEWSLETTER
RELOAD WITH CONFIDENCE!
What's Your TITAN Advantage?....WE RELOAD!
***Your Reloading Specialists***
Yeah Buddy.....it's May.....OOHRAH!! Time to get out the grill, the golf clubs, the guns, and.....oh yeah, the lawn mower......although, I've never missed the snowblower when cutting the grass. I don't know about you but I LOVE this time of year.
NOTICE: There has been a sudden increased interest in reloading. We are doing our best to keep items in stock. "Out Of Stock" items are on order and we update the website daily as items arrive. All of our suppliers and Titan Reloading are working hard to keep up with demand. We receive products daily and we fill orders in the order they are placed. Back-ordering products will reserve them for you. Thank you for your patience.
We are truly enjoying all the friends we have made through Titan Reloading and look forward to many more. Feel free to contact us. When possible, please email us rather than call. Due to our limited phone system and staff we are able to respond to your questions quicker via email. Please include your full name or order ID number with any order inquiries. Service and Support is our top priority. As always, you will find many answers to questions in the "FAQ" and "Help Videos" areas of our website www.titanreloading.com . Check us out on YouTube and Facebook.

Dennis / Titan Reloading
FEATURED PRODUCT: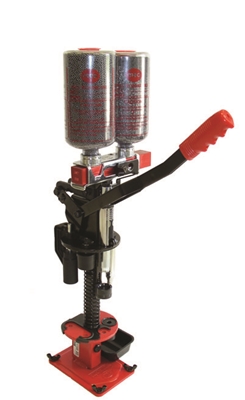 Mayville Engineering Company, foremost manufacturer of reloading equipment in America, is widely respected for its continuing dedication to precision engineering. This precision is incorporated into every one of MEC's "New Generation" reloaders, rendering truly innovative and efficient engineering designs.
The MEC 600 JR. MARK 5 is no exception. The Mark 5 offers the convenience of simple, single-stage operation at an affordable price.
The Mark 5 is remarkable in that it performs each of the basic reloading steps with a mere pull on the handle- depriming, priming, resizing the metal base, measuring the correct amount of powder, firmly seating the wad column, measuring the precise amount of shot and forming a tightly sealed crimp.
Every step of the reloading sequence is performed with a minimum of motion. An exclusive shell holder positions the shell at each station. No transfer die is required, and resizing dies at reconditioning and crimping station give your shell its proper form.
Several features make the MEC 600 JR. MARK 5 today's best buy:
The Cam-actuated reconditioning station with positive ejection.
The Adjusta-Guide wad feed device with vertical adjustment to permit rapid wad insertion.
The new one piece Spindex crimp starter with swivel action to correctly align with the original shell creases can be changed from 6-8 pt. in seconds
The "Pro-Check" which keeps the charge bar in proper sequence to prevent spilled powder or shot.
Best of all, the crimp die is now manufactured from a revolutionary new material called "DuPont Zytel" which makes maintenance a breeze. The glass-reinforced strength of Dupont Zytel far exceeds any requirements, is absolutely rust free, and actively resists the build-up of residue carried into the die on fired shells. Thus, the die slides effortlessly over the casing, making a perfect crimp every time.
NOTE: This reloader will reload steel shot shells. To convert to steel shot kit #8433 is necessary. Do not use components designed for use with lead shot when loading steel shot shells.
NOTE: A special steel shot charge bar must be used when loading steel shot. Do not use charge bars designed for lead shot when loading steel shot shells.
INSIGHT OF THE MONTH:
Shot Shell Buckled Cases
Wrinkled or buckled shells usually means that there is too much compression in the shell. Try applying more wad seating pressure, use slightly less shot, use a denser powder (a powder that uses a smaller bushing for the same dram equivalent) or a shorter wad.
Kink During Last Crimp
If you are finding that your shells are coming out kinked during the last crimping station, you may be applying more pressure than necessary for this operation. If you are sure this is not the case, then put some Vaseline on your finger and spread it around throughout the inner diameter of that die. This remedy was suggested by a customer, and while we are not completely sure why it works, it certainly seems to.
Another possibility lies in the weather. It seems that the colder it is at the loading location, the better the chance a case will kink on final crimp. This is possibly due to the plastic case being less pliable.
Titan Reloading 994 W. Sumner St., Hartford, WI 53027 1-262-397-8819
WE'RE SETTING THE STANDARD, ONE CUSTOMER AT A TIME.
You are receiving our monthly Titan Reloading Newsletter because you subscribed to it when you set up your account on our website www.titanreloading.com. We don't want you to miss out on the newsletters we send you. We also respect all our valued customers consent. That is why we are asking all of our readers to decide if they would like to discontinue receiving newsletters from Titan Reloading. If you'd like to stop receiving our newsletters please click the "unsubscribe" link at the bottom of the newsletter.