APRIL 2011 NEWSLETTER
Robin and I want to thank you for your patience during this current back order situation. Lee Precision is committed to manufacturing their products using US suppliers. Lee manufactures most of their products themselves but they also enlist other vendors when their expertise and equipment is required for optimum value and performance. With more and more manufacturing being outsourced today, many American manufactures have been eliminated. I do have a "Soap Box" to stand on here but will defer using at this time. I will however encourage all Americans to think about this whenever they buy anything. The only way to turn this around is through the hearts and minds of Americans.
Just a reminder. Starting next month the Titan Reloading newsletter will be sent to subscribers only. You must Create An Account or Loggin to your current Titan Reloading Account if you wish to subscribe to this newsletter.
We are truely enjoying all the friends we have made through Titan Reloading and look forward to many more. Feel free to contact us. Service and Support is our top priority. I have a day job so the best time to call for support is between 6-10 PM CST. I am able to answer emails throughout the day. Robin can take your service calls daily and will pass any support questions she can't answer on to me. As always, you will find many answers to questions in the "FAQ" and "Help Videos" areas of our website www.titanreloading.com
Dennis / Titan Reloading
NEW IN 2011: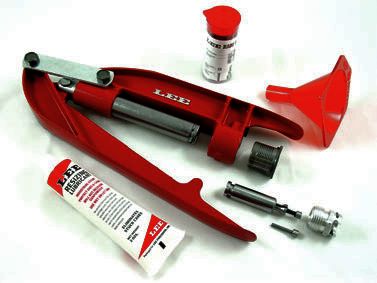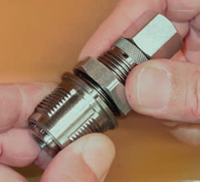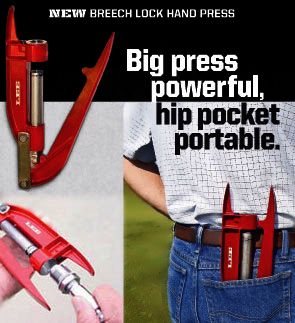 Including the new Lee Breech Lock Hand Press. The world's most popular hand press, more convenient than ever, now includes the Breech Lock Quick-Change Die Feature, so you can instantly change dies with just a twist of the wrist.
The Breech Lock Hand Press is a full size reloading press that tips the scale at a mere 1 3/4 pounds. It gives you plenty of stroke with lots of power to handle the largest magnum cartridges.
Whether loading at the range, in your easy chair or in a small apartment, you can't beat the Hand Press.
This kit is great for beginners–the kit and set of dies is everything needed to start reloading.
Includes:
Hand Press
1 Breech Lock Bushing
Ram Prime
Powder Funnel
Case Sizing Lube
See the "Press Accessories" category to buy extra bushings.
INSIGHT OF THE MONTH:
Fluxing Your Lead Alloy
You have added the lead alloy into your melting pot and while it was melting down you prepared the mold for casting as demonstrated in this "VIDEO" ( provided by Lee Precision, Inc. ) There is one last and very important step left that must be performed before you can cast bullets. The lead alloy must be fluxed.
You will see a gray scum floating on the top of the melt. This is mostly your costly alloys and not waste. When you melt the lead these alloys ball up into tiny spheres that float to the top. They do not join in with the lead because of surface tension between the molecules. Flux defeats this barrier and allows the metals to alloy. There are many fluxes available but most are very corrosive to steel and will badly rust your melter. Bees wax or "Lee NRA Formula Alox Bees Wax" works very well as a flux and is not corrosive.
Roll the flux into a ball about 1/4" ( large pea size ) in diameter and drop it into the melting pot. Stir it in with your lead ladle. The smoke can be burned off with a match. This can create a large flame so care should be taken. When the pot of alloy is fluxed properly there should be nothing but a dark grey powder floating on top. Skim this off and discard it. This waste can cause lead poisoning so you should not let it accumulate.
With your melt properly fluxed you are now ready to cast bullets.
Create An Account or Loggin to your current Titan Reloading Account if you wish to subscribe to this newsletter. We will be sending to subscribed accounts only starting in May 2011. Thank You.