You can subscribe to this Newsletter if you sign up for an account with Titan Reloading.
CLICK HEAR TO REGISTER AN ACCOUNT
CLICK HERE To browse an archive of past newsletters.

JANUARY 2018 NEWSLETTER

Wow!! Another year gone already. The Titan Crew hopes you all had a wonderful Christmas and wishes all of you a HAPPY and PROSPEROUS NEW YEAR! We have undergone many changes in 2017, including the addition of Dillon and Redding reloading products. We look forward to what 2018 may bring.
We are truly enjoying all the friends we have made through Titan Reloading and look forward to many more. Feel free to contact us. When possible, please email us rather than call. Due to our limited phone system and staff we are able to respond to your questions quicker via email. Please include your full name or order ID number with any order inquiries. Service and Support is our top priority. As always, you will find many answers to questions in the "FAQ" and "Help Videos" areas of our website www.titanreloading.com . Check us out on Google + and Facebook .
Dennis / Titan Reloading
FEATURED PRODUCT:
LEE PRO 1000
NEW 2018 DESIGN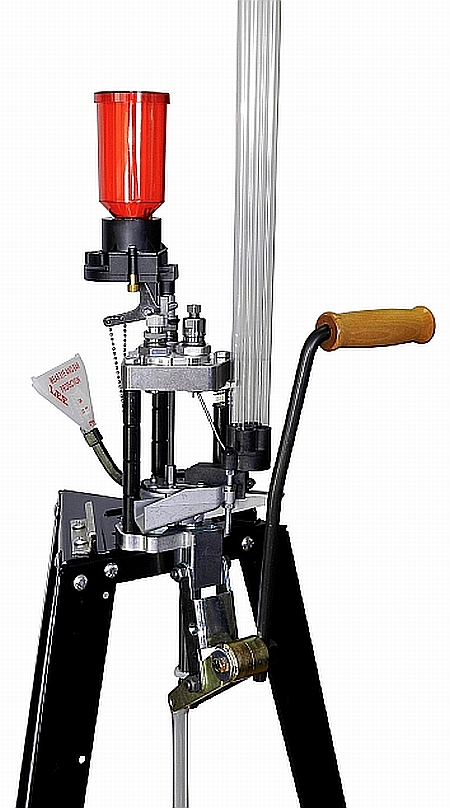 The new design Pro 1000 has a positive index locating pin that eliminates indexing problems. It has a new low profile steel base that has been rotated for optimal ergonomics while reloading. Best of all it now has a through ram primer disposal system.
Add a bullet and pull the lever; all other operations are automatic on this progressive press. One loaded cartridge with each pull of the lever.
Every operation is automatic. Primers, like the powder, are fed only if a case is present. No wasted primers or spilled powder. Alternate loading sequence lets you load only one case at a time. Makes learning easy for the first time user and great for fine adjustments or experimenting.
You can start reloading good ammunition minutes after the press is bolted down.
Change calibers in just three minutes. Extra Turrets and Shell Plate Carriers sold separately.
Notes:
Extra Turrets and Shell Plate Carriers are available for reloaders buying a Pro 1000 kit who plan to load more than the caliber listed in the description of press. (sold separately)
The Lee Reloading Stand shown in the picture is NOT INCLUDED.
The Pro Auto-Disk powder measure (included as part of the kit) will only work with Lee Powder Through Expanding Dies.
INSIGHT OF THE MONTH:
Full Length Sizing vs. Neck Sizing
Full length sizing dies such as the Lee Pacesetter Dies, return the entire spent cartridge to a degree that will chamber in any rifle for that caliber. Lee Dies size cases as minimally as possible while still ensuring proper chambering so that your brass is not "overworked" by the die. It is necessary to lubricate the case prior to full length sizing.
We recommend full length sizing when shooting fired brass for the first time in any rifle. It is also the preferred technique for rifles intended to be used for hunting so that rough handling of the ammunition through the magazine and chambering does not become a factor for error.
Neck sizing with Lee's Collet Dies generally provides increased accuracy because the spent cartridge becomes "fire formed" to your specific chamber. No case lube is necessary because the die is only pressing the neck against the mandrel in the middle of the die. Neck sizing is only preferable when reloading cases that have been fired out of your rifle. They are primarily designed for accuracy when using a bolt action rifle for target use. Collet neck sizing results in cases lasting up to ten times longer without the need for trimming near as often, as when full length sizing.
The Dead Length Bullet Seater that comes with Lee's neck sizing dies is designed for accuracy and does not crimp the case as does the seater/crimper in our Pacesetter dies. It is designed to touch the shellholder to eliminate clearance in the press for a more uniform bullet seating depth. Crimping is seldom necessary for target work.
The Ultimate Rifle 4 Die Set includes Lee's Neck Sizing 2 Die kit along with a full length sizing die and a Factory Crimp Die. This is because you may obtain brass that has not been fired in your rifle and it allows you to prepare the case for its first firing in your rifle. Remember, it is necessary to lubricate the case for the full length sizing die only. After your first firing only the collet sizing die is required.