You can subscribe to this Newsletter if you sign up for an account with Titan Reloading.
CLICK HEAR TO REGISTER AN ACCOUNT
CLICK HERE To browse an archive of past newsletters.

JANUARY 2020 NEWSLETTER
RELOAD WITH CONFIDENCE!
What's Your TITAN Advantage?….WE RELOAD!
***Your Reloading Specialists***

Wow!! Another year gone already. Before we move forward, the Titan Crew and I would like to thank all of you for your interest in Titan Reloading and pledge our continued effort to provide the most complete line of reloading equipment and support for your reloading needs. THANK YOU for sharing us with your friends. Many of our new customers found out about us because of a referral from someone they knew. Our continuing goal is to live up to your recommendations and to provide "Service and Support Second To None".
We are happy to announce our new relationship with the Lyman Products Corporation. Lyman has been a recognized name in reloading components and equipment for many years. "Brands That Perform" means something at Lyman. Performance means more than just getting the job done. It means delivering value while advancing technology. Most importantly, it means listening to the needs of shooters and reloaders. In fact, the development of their products are most often directly linked to the feedback they get from customers and the retailers who supply them. Titan Reloading will now be able to offer all their products to you, including the Mark 7 line of products. Lyman has announced that Mark 7 Reloading is now a Lyman brand and a part of the Lyman family. Mark 7 has brought change and innovation to the market since their introduction of the popular Autodrive systems in 2015. Since then Mark 7 has continued to bring new and dynamic advancement to reloading with their Evolution and Revolution progressive presses. Lyman Products saw a growth opportunity within the reloading space by combining its world-class manufacturing with Mark 7's world-class engineering. Watch our website www.titanreloading.com as we grow our inventory of Lyman and Mark 7 products.
We are truly enjoying all the friends we have made through Titan Reloading and look forward to many more. Feel free to contact us. When possible, please email us rather than call. Due to our limited phone system and staff we are able to respond to your questions quicker via email. Please include your full name or order ID number with any order inquiries. Service and Support is our top priority. As always, you will find many answers to questions in the "FAQ" and "Help Videos" areas of our website www.titanreloading.com . Check us out on YouTube.
Dennis / Titan Reloading
FEATURED PRODUCT:
MARK 7 EVOLUTION
Coming Soon in 2020
$2,794.95 When Available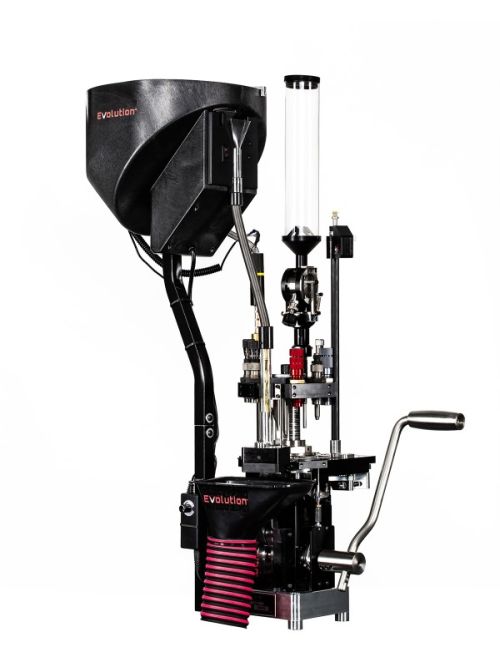 The new Mark 7 Evolution is by far the ultimate in manual progressive reloading presses. It is the core of the commercial grade Mark 7 Revolution reloading press. The Evolution 10 station rotary progressive press includes features that have never been engineered into a manual progressive press and it is fully up-gradable to the automated Revolution press with the addition of a Mark 7 Autodrive system and sensor systems.
The improved indexing system is the reason the Evolution indexes more smoothly and reliably than any other press manufactured today. You will feel the difference with the very first pull of the press lever. The 10 station tool head makes it possible to set up all your reloading operations to be completed in one pass. Swage, trim, a powder check die and a bullet feeder all have a spot on the Evolution press. With the new Evolution press it is all possible.
Standard features of the Mark 7 Evolution include:
A massive, robust 10-station tool head which allows you to "have it all":
Station 1: Case feeding
Station 2: Sizing and decapping
Station 3: Swage/Case trim
Station 4: Primer seat with hold down
Station 5: Resize/neck expansion
Station 6: Powder drop
Station 7: Powder check
Station 8: Bullet Dropper
Station 9: Seating
Station 10: Crimping
Large capacity, fast feeding case collator
Ergonomically designed operating handle, which can be assembled for right or left-hand use
New and improved case feed system using roller bearings and user-adjustable springs
Double Sleeve support for the tool head creates smoother more in-line function
Gear-based precision-fit overall operation
A large assortment of accessories, upgrades and sensors are available.
Designed for automation, and for many optional upgrades, which include the Mark 7 Automatic Primer collator, the Mark 7 Evolution Autodrive and the complete suite of Mark 7 Sensors and parts.
If you own a Mark 7 1050 Pro/X Autodrive – that can be modified for use on a new Evolution, with the purchase of a conversion kit.
Dimensions
Overall machine dimensions are 39″ tall (99.1 cm) X 19.5″ (49.5cm) wide x 14″ (35.6cm) deep
Machine weight 65lbs (29.5kg)
Upgradeability
The Evolution™ can easily be upgraded with the following options at any point:
Evolution Autodrive
Automatic Primer Collator (only with Autodrive)
Digital Powder Dropper (only with Autodrive)
Machine caliber conversion kits that include all the components required to convert the press from one caliber to another
Trimmer kit for rifle processing
This Mark 7 Evolution Includes:
11" case feeder and shell plate in caliber
Mechanical Powder Dropper
Standard Stacked Primers
Machine conversion kit in caliber of choice.
Not included as standard.
Dies
Bullet feeder
Autodrive for Evolution
Optional digital powder Dropper
Optional Onboard Primer collator
Additional accessories and sensors
INSIGHT OF THE MONTH:
Making Room to Load
Author: Ron Spomer / Wolfe Publishing Co.
Don't be discouraged by cramped living conditions. If you have enough room to swivel round a chair, you have enough to handload. A tiny space might not be as convenient as a full room, but handloading equipment can be made to work in surprisingly small areas, including kitchen tables, bathroom counters, even closets.
During a recent visit to Sportsman's Warehouse in Boise, I saw a wood and metal reloading bench that couldn't have been more than two feet deep and three feet wide. That's plenty of space for handloading, but the price of the unit was more than $300. I know that would have been too rich for my wallet back when I was starting out, so if you're in the same economic boat, don't despair. You can rig up your own loading bench for almost nothing.
Your biggest concern is a stable platform for a press. Considerable force is put into resizing brass and you need a solid platform to handle it. My solution has always been to add a square of 3/4-inch plywood and 2×4 legs to any substandard shelves or tables I might have. I once ran a Pacific press on a built-in desk of a mobile home, and you know how flimsy those plywood tornado magnets are! All I did was cut a slab of plywood to fit atop and stick out beyond the cheap desktop far enough to accommodate the press, which I reinforced underneath with a frame of 2x4s. All the pressure went down into the 2×4 legs. I piled bullets and bags of shot on the back of the plywood to hold it down. When I moved out, the desk looked good as ever, nary a hole in it.
With just a handsaw, drill and screws you can build a stand-alone platform in the shape of a box. Make it tall enough to work from as you prefer, sitting or standing. Let the top overhang the front or one side far enough so the press handle clears on the downstroke. Reinforce under the press with a horizontal 2×4 and one or two going down as "legs." Add a series of shelves inside the box and you'll have neat storage space for bullets, powder, dies, etc. Put rollers on the bottom and you can roll this rig in and out of a closet as needed. Or paint the outside pretty and use as a lamp or knick-knack counter.
Want a closet loading bench? Secure a fold-up plywood top to a back wall with hefty hinges. Hinge 2×4 legs to its front edge. Everything folds up and out of the way until you need to reload. Then just push the shirts and pants out of the way, fold down the shelf, mount the press and get to work.
It's even possible, though not ideal, to do your handloading outside on a picnic table or rough bench made just for the purpose. You'll need to store supplies in the house, of course, and break them out each time you load, but it beats sitting and wishing. Build small, wooden platform bases for your press, case trimmer, neck reamer and whatever else you need and clamp them to the picnic table with carpenter's C clamps. Do your powder loading indoors where nothing will contaminate it and wind won't mess with your scale. Fill a block of cases, then carry them out to the press for bullet seating.
Garages are natural and commonly used handloading rooms. Just don't mix loading supplies with mechanic and auto supplies. Oil and powder don't mix. If space is limited, dedicate a removable plywood counter top just for loading. Place this over your dirty, oily workbench before getting out primers and powders. A slab of Formica covered plywood from one of the home improvement stores makes an easily cleaned, smooth bench surface for reloading. Oh, if your garage gets hot in summer, don't store primers or powder in it. Keep them someplace dry and cool.
A support for powder measure and scale can be a simple box of shelves designed to place the scale level with your eye. Make it wide enough to remain stable while operating the lever of a powder measure. Lower shelves can be used to store calipers, funnels, primer pocket cleaners, etc. I've made a number of these over the years, often out of scrap wood. Hey, it doesn't have to be pretty. It just has to work.
Don't worry about the perfect design for a press bench. You can always shore up bad designs with additional 2×4 legs or cross-member supports, even on the "feet" of your table's legs (if it wants to tip forward on the down stroke, for instance). Get free lumber scraps at any building site. Just ask if you can pick through the scraps and you'll find enough 2x4s, planks, boards and premature shelving to build nearly anything needed in a reloading room. Don't be intimidated, don't be shy, and don't believe you don't have the space to set up a handloading corner.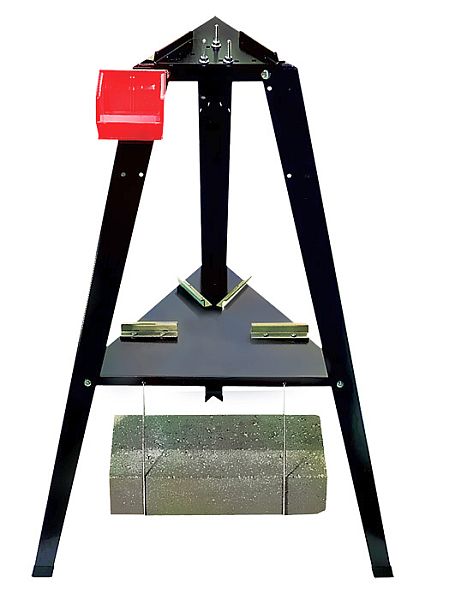 Introducing the Lee Reloading Stand, perfect for the reloader with limited working space, an overwhelmed workbench, or someone looking for solution to portable reloading needs. The sturdy powder coated steel stand places your press at the perfect counter stool or standing height of 39″. The 10 inch triangular steel top plate uses the Patented quick change Lee Bench Plate system. The stand is 26″ wide by 24″ deep
o it does not require a lot of room.
There's more, the reloading stand includes a sturdy steel shelf with two bench plate receivers that will neatly and securely store your extra presses or mountable accessories. Included with the stand is one storage bin for component or tool storage, which clips onto the steel bin bracket provided with the stand. Each leg has eight mounting holes that allow you to accessorize your stand with a multitude of bins, shelves or accessory die racks. Includes drawing to customize and make your own extended work surface. This reloading stand is perfect for the apartment-dweller or anyone who is limited on space.
: Fits all Lee metallic presses (Fasteners for mounting one press are included).
: Powder-Coated Steel
: Comes with 1 storage bin and bracket, the top plate, the bottom shelf, 1 drilled Steel Base Block and the complete fastener set for top plate and bottom shelf along with two steel concrete block hangers.
NOTE: The press and concrete block shown in the picture are not included. Concrete block is necessary for safe, stable operation. Obtain one at any building supply or home center.
Titan Reloading 994 W. Sumner St., Hartford, WI 53027 1-262-397-8819
WE'RE SETTING THE STANDARD, ONE CUSTOMER AT A TIME.
You are receiving our monthly Titan Reloading Newsletter because you subscribed to it when you set up your account on our website www.titanreloading.com. We don't want you to miss out on the newsletters we send you. We also respect all our valued customers consent. That is why we are asking all of our readers to decide if they would like to discontinue receiving newsletters from Titan Reloading. If you'd like to stop receiving our newsletters please click the "unsubscribe" link at the bottom of the newsletter.