You can subscribe to this Newsletter if you sign up for an account with Titan Reloading.
CLICK HEAR TO REGISTER AN ACCOUNT
CLICK HERE To browse an archive of past newsletters.

MARCH 2014 NEWSLETTER
They call it "Cabin Fever". I don't know…..maybe I got it. This winter seems to be lasting a lifetime with months of below freezing temperatures and snow almost every other day. Enough already. I've been reloading all winter and I'm anxious to send them down range but it's no fun when I can't see the target past my own breath. This too will pass, it does every year, but man…..it won't be soon enough for me.
My sons and I have been invited to give reloading seminars at this years Safari Club International Grand Banquet here in Oconomowoc, Wi. We are looking forward to sharing our knowledge of reloading with the hunters and shooters who will be attending. We are not known for our public speaking but we "know of what we speak" so all should go well.
We are truly enjoying all the friends we have made through Titan Reloading and look forward to many more. Feel free to contact us. When possible, please email us rather than call. Due to our limited phone system and staff we are able to respond to your questions quicker via email. Please include your full name or order ID number with any order inquiries. Service and Support is our top priority. As always, you will find many answers to questions in the "FAQ" and "Help Videos" areas of our website www.titanreloading.com
Dennis / Titan Reloading
FEATURED PRODUCT:
LEE LEAD HARDNESS TESTING KIT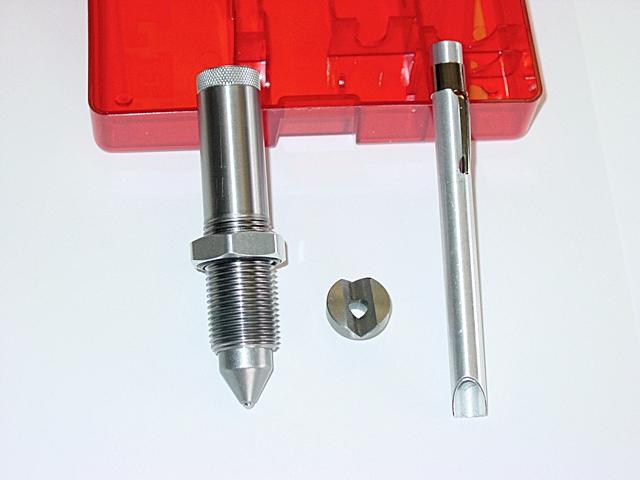 Featured product in Chapter 10 of Modern Reloading. No more wasted components shooting too soft or too hard lead. Cast and load with confidence knowing your alloy is up to the job. Quickly and precisely check hardness of your lead alloy. Exclusive conversion chart tells the maximum operating pressure of any lead alloy.
Kit includes calibrated hardened steel ball indenter "v" block cradle snaps into standard press ram 20 power 4 lens optical measuring microscope.
INSIGHT OF THE MONTH:
Fluxing Your Lead Alloy
You have added the lead alloy into your melting pot and while it was melting down you prepared the mold for casting as demonstrated in this "VIDEO" ( provided by Lee Precision, Inc. ). There is one last and very important step left that must be performed before you can cast bullets. The lead alloy must be fluxed.
You will see a gray scum floating on the top of the melt. This is mostly your costly alloys and not waste. When you melt the lead these alloys ball up into tiny spheres that float to the top. They do not join in with the lead because of surface tension between the molecules. Flux defeats this barrier and allows the metals to alloy. There are many fluxes available but most are very corrosive to steel and will badly rust your melter. Bees wax works very well as a flux and is not corrosive.
Roll the flux into a ball about 1/4″ ( large pea size ) in diameter and drop it into the melting pot. Stir it in with your lead ladle. The smoke can be burned off with a match. This can create a large flame so care should be taken. When the pot of alloy is fluxed properly there should be nothing but a dark grey powder floating on top. Skim this off and discard it. This waste can cause lead poisoning so you should not let it accumulate.
With your melt properly fluxed you are now ready to cast bullets.