You can subscribe to this Newsletter if you sign up for an account with Titan Reloading.
CLICK HEAR TO REGISTER AN ACCOUNT
CLICK HERE To browse an archive of past newsletters.

FEBRUARY 2014 NEWSLETTER
Oh look……it's snowing again! Seems all I've been doing lately is clearing the driveway and sidewalks so the snow has somewhere to fall tomorrow. Speaking about tomorrow, it's Groundhogs Day……ain't no way I'd let that rodent back into his den, enough is enough already!
WOW! Superbowl already. Our Packers were knocked out early but we expect a great game this year. Best of luck to all you Broncos and Seahawks fans.
Robin and I are happy to say we've just added our daughter Jamie to the Titan Crew. That makes 2 daughters, 2 sons, a soon to be daughter-in-law and of course our niece "The Crew Chief" Samantha. Oh….I almost forgot….and our puppy Lady, who is the first to greet the customers when the door chime goes off. We're quite the team and we "Get 'er Done"!
We are truly enjoying all the friends we have made through Titan Reloading and look forward to many more. Feel free to contact us. When possible, please email us rather than call. Due to our limited phone system and staff we are able to respond to your questions quicker via email. Please include your full name or order ID number with any order inquiries. Service and Support is our top priority. As always, you will find many answers to questions in the "FAQ" and "Help Videos" areas of our website www.titanreloading.com
Dennis / Titan Reloading
FEATURED PRODUCT:
LEE PRO AUTO-DISK POWDER MEASURE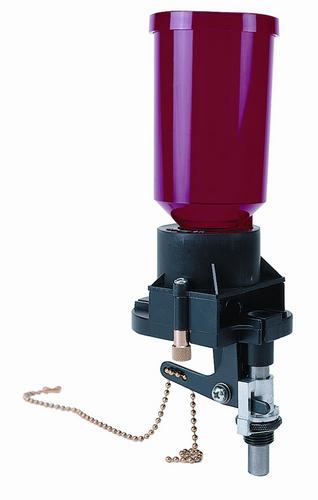 Commercial reloaders or competitive shooters first choice! Elastomer wiper and teflon coated metal casting make this the smoothest operating measure. Will not cut powder and almost eliminates leakage. Large hopper with shut-off valve is attached with brass thumb nuts for the ultimate in disk changing convenience. Increased safety with positive pull-back lever. Includes swivel adapter and spring return lever with spring. Includes all four disks!
The Auto Disk powder measures must be used with the powder through expanding die supplied with all Lee pistol die sets. These dies may be purchased individually, see our listing of dies in Pistol Reloading Dies. Rifle calibers up to .308 Win can also be charged using the Rifle Charging Die.
Includes: Four disks with 6 cavities per disk to measure powder
Metering Chamber: 24 Cavities measuring different volumes of powder
Powder Charge Thrown: Between 2.7-14.4 Grains of Unique and 4.0-21.1 grains of IMR 4064. Lee Double Disk Kit (sold separately) will effectively double the charges able to be thrown to charge calibers up to .308 Win. Will work with all types of smokeless powder.
Lee Auto-Disk Riser (Sold Separately), Installs between the Lee Powder through expanding Die and Auto-Disk Powder Measure. Allows a convenient use of other brands of dies that have extended adjusting screws and provides clearance for the Lee Safety Prime.
Material: Plastic and Metal
INSIGHT OF THE MONTH:
Auto Disk Metering Consistency
When selecting a powder to use in a powder measure it is important to consider the shape of the particles called granules. All powder measures achieve their drop weight by filling a cavity or an adjustable vile having a quantifiable volume with powder. The physical shape of the granules are a part of the manufacturing process and due to their physical shape some granules will fill the powder measure more consistently than others. The following is a list of common powder granule shapes in the order of best to worst for metering in a powder measure.
BALL POWDER consists of spherical granules that are normally small in size. This type of powder meters very well.

FLATTENED BALL POWDER is very similar to ball powder but is flattened slightly. This type of powder behaves almost identically to ball powder.

EXTRUDED POWDER or Stick Powder has granules that are shaped like small extruded cylinders. One issue that can arise with this shape is the powder measure cutting the sticks into different lengths which will lead to slight inconsistency.

FLAKE POWDER has granules that are shaped like tiny disks. Flake powder is the most difficult to meter correctly due to the fact that it can "stack up" and/or "bridge" in the powder measure making it less uniform when metering.

Make sure that when measuring charges thrown by the Auto Disk measure, that it is done out of the normal loading sequence. It is important that the measure work consistently in the amount of force used to move the disk to the drop hole and return. This is accomplished through consistent press lever operation every time.
It is also very important to ensure that the Auto Disk measure is seated securely into the Powder Through Expanding Die which must also be properly adjusted. This information can be found on this FAQ under "Die Questions" and then "Powder Through Expander Adjustment". If you are using a chain return system, it must be adjusted properly. This ensures that the disk moves the same amount each and every time the lever is operated. Proper adjustment of the bead chain can be found on this FAQ under "Powder Handling" and "Auto Disk Chain Attachment".
You may want to "condition" the measure by either using powdered graphite on the disks or running the equivalent of a pound of powder through the measure. If you find that inconsistencies still exist, you may want to wash the disks in warm soapy water, rinse and let air dry. This should help eliminate any static that may have been present.
Lastly, some powders do not meter well. Unique powder is one example that meters with "casual uniformity". You may find the same symptom with small flake powder in small quantities.