You can subscribe to this Newsletter if you sign up for an account with Titan Reloading.
CLICK HEAR TO REGISTER AN ACCOUNT
CLICK HERE To browse an archive of past newsletters.

MAY 2012 NEWSLETTER
Robin and I want to thank you for your understanding during this recent backorder season. Due to an increased interest in reloading and Lee Precision's commitment to source their products in the USA we are currently about two to three weeks behind in receiving our inventory. Some items are even farther back than that. Lee is working hard to fill your reloading needs and we will ship all backorders ASAP.
We are happy to announce the addition of "Once Fired Brass" and "Range Brass" to our product line. The range brass has been inspected but not tumbled and we current have .357 Magnum. The once fired brass is from police departments in 9mm, .40 S&W and very limited .380 ACP. This brass has been inspected and tumbled requiring minimum preparation before reloading. Please note the stock status before ordering as we cannot backorder due to the unknown availability of brass right now. The 9mm and .40 S&W will be incoming regularly and I am working on getting more calibers in both rifle and pistol.

We are truely enjoying all the friends we have made through Titan Reloading and look forward to many more. Feel free to contact us. Service and Support is our top priority. As always, you will find many answers to questions in the "FAQ" and "Help Videos" areas of our website www.titanreloading.com
Dennis / Titan Reloading
FEATURED PRODUCT: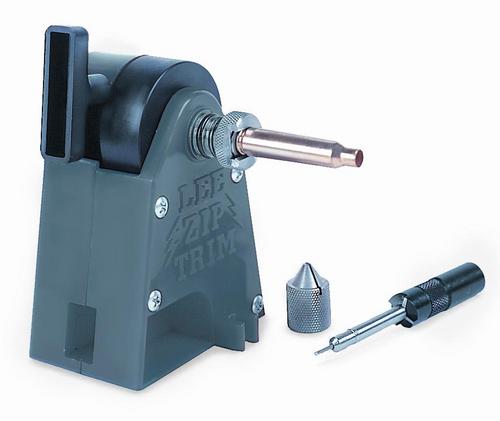 Trimming cases is a fact of life if you reload rifle cases. This task has always been accomplished with tools that require one to hand crank a cutter or resort to an expensive electric unit. The Zip Trim changes the way reloaders prepare cases for reloading. The Zip Trim rotates the case like a lathe. This allows you to trim, chamfer and polish your case without having to remove the case from the tool. Other trimmers hold the case fixed and rotate the cutter.
What really makes the Zip Trim unique is the crank has been thrown away and is replaced with a recoil mechanism like you would find on a small engine. One pull of the Zip Trim cord quickly trims the longest case and just part of a pull chamfers the case mouth. If you like shinny cases touch the spinning case with steel wool or polishing cloth and you get an instant jewel like finish on your case.
Requires: Lee Case Length Gage and Shellholder, Lee Cutter and Lock Stud (Sold Separately)
Mounting screws included
Material: Plastic
INSIGHT OF THE MONTH:
Interchangeable Dies
Frequently, dies from one caliber may be used to reload other calibers. This is because some calibers were developed by lengthening the case to allow for more powder behind the bullet thus improving the performance of the new caliber. A common example of this is the .38 Special and the .357 Magnum. The case length of the .357 Magnum is .125" longer than the case for the .38 Special. To use the .38 Special dies to reload .357 Magnum you set up the Sizing Die (1st die) the same for both calibers however the Powder Through Expanding Die (2nd die) and the Bullet Seating Die (3rd die) must be backed out of the press approximately 2 turns to adjust for the difference in case length. This adjustment must be tweaked in for perfect results. Due to the locations of the crimping shoulders inside the dies, this operation will only work for dies of the shorter caliber to the longer. This means that the .38 Special dies will reload .357 Magnum but a .357 Magnum die set will not reload .38 Special. You may have notice a die set label depicting the shorter caliber die in your set with the longer caliber shown as well.
Even though some dies are interchangeable, in a few cases, different shell holders are necessary. You can see a complete list of shell holders by the caliber in the "FAQs" under "Case Preparation" then "Shellholders and Calibers".
This is a list of the interchangeable die sets.
45 Colt – 454 Casull *
44 Russian – 44 Special – 44 Magnum
38 Special – 357 Magnum – 357 Maximum
30-30 Winchester – 30 Remington
38 Super – 9mm Largo
40 Smith & Wesson – 10mm – 41 Action Express
32 Smith & Wesson – 32 S&W Long – 32 H&R Magnum ** – .327 Fed Magnum
*The 45 Colt expander die will also work for the 454 Casull by backing the die out approximately two turns to compensate for the difference in case length.
**Lee dies allow for the use of .308 bullets in the 32 H&R Magnum. The other bullet diameter commonly used is .311 and that is the expander that comes with the set. To use .308 bullets, it is necessary to purchase an additional expander and turn it down to .308. This can be done using a drill press and emery cloth.

Factory Crimp Dies are cartridge specific. The only way in which one caliber can be used for another is if the two calibers share bullet diameter and trim length exactly. Factory Crimp dies generally use about .050" of the case to apply the crimp so any difference in the trim length between the cartridges comes off that amount.