You can subscribe to this Newsletter if you sign up for an account with Titan Reloading.
CLICK HEAR TO REGISTER AN ACCOUNT
CLICK HERE To browse an archive of past newsletters.

April 2012 NEWSLETTER
Robin and I have good news. Starting this month I will be here at Titan full time to answer your support questions……( and get in Robin's way). We've had many plans for our business to expand our product offerings and our customer base. I will now have the time to work toward these ideas.
We have changed the "Service Parts" category of our website. The parts are now listed in separate categories according to the product. Browse the categories by "CLICKING" on the picture of the product or, to find your parts quickly, use the Lee Part Number in the "Keywords" area of our Search Feature on the right side of the website and select "Service Parts" in the window below "Keywords", then click "Go". The "Service Parts" category of our website is not completed. For any parts not listed "Contact Us" and we will list them for ordering.
We are truely enjoying all the friends we are making through Titan Reloading and look forward to many more. Feel free to contact us. Service and Support is our top priority. As always, you will find many answers to questions in the "FAQ" and "Help Videos" areas of our website www.titanreloading.com
Dennis / Titan Reloading
FEATURED PRODUCT: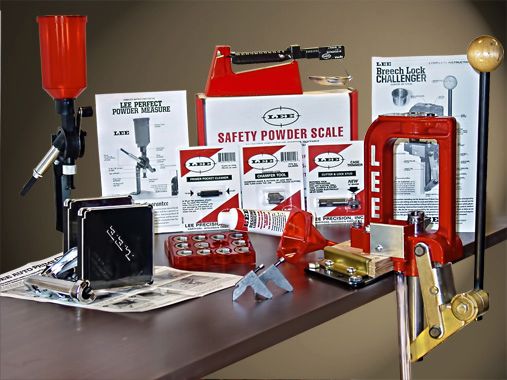 This kit replaces the popular 35th Anniversary Kit features the same components as the 50th kit but we have replaced the Safety Prime with the Auto-Prime XR and a set of Auto-Prime shell holders. This kit is for those who prefer to prime off of the press.
Includes the new Breech Lock Challenger Press and one Breech Lock quick-change bushing.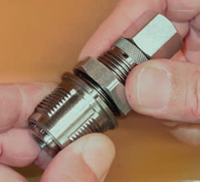 You get a complete powder handling system, with the most convenient and repeatable Perfect Powder Measure. Plus the Lee Safety Scale, the most sensitive and safest of all powder scales and fill your case with the included Powder Funnel.
Case Preparation Tools include a cutter and lock stud to trim your cases. Order the correct case length gauge for the calibers you will be loading, it's only $5.50 extra. An included Lee chamfer tool chamfers the inside and outside of the case mouth and a tube of premium sizing lube is included. A small and large primer pocket-cleaning tool completes the case preparation package. $13.92 value.
Purchased separately, a $192.00 value
Specifications:
Press Type: Single Stage
Frame Material: Die Cast Aluminum
Frame Design: O Frame
Frame Offset: 30 Degrees
Frame Opening Size: 4-1/4"
Handle Location: Bottom Right or Left
Die Size Accepted: Standard 7/8"-14 Threaded Dies
Die Bushing Accepted: Yes
Die Bushing Brand Used: Lee Breech Lock Quick Change Bushings
Spent Primer Collection System: Yes
Ram Stroke: 3-1/2""
Ram Diameter: .815"
Priming Feature: No
Number of Mounting Holes: 3
Mounting Hardware Included: No
Includes:
Challenger Breech Lock single stage press
1 Breech Lock Die Bushing
Lee Safety Scale
Perfect Powder Measure
Powder Funnel
Lock Stud and Cutter
Lee chamfer tool
Primer Pocket Cleaner
Auto-Prime XR
Set of Auto-Prime Shellholders
Tube of Sizing Lube.
Note:
A Lee Case Length Gage, sold on the Case Length Gage and Shellholder page, will need to be purchased for each caliber being reloaded.
The Bench Plate 90251 shown in the picture is not included with this kit and is sold on the "Press Accessories" page.
INSIGHT OF THE MONTH:
Liquid Alox Application
Best results in applying liquid alox are when the alox is heated before applying, or thinned with paint thinner. This makes it flow more easily, and results in a more even coat. One technique is to boil water and pour it into a coffee mug, and then drop the bottle of liquid alox into the mug for about five minutes.
Place your freshly cast bullets into something about the size of a Cool Whip bowl and drop a few drops of liquid Alox on the bullets. Mix the bullets around until they are all coated. Lay the freshly coated bullets on some wax paper to dry. Liquid alox will usually dry enough overnight to reload the next day, depending upon the humidity. Tacky bullets can be dusted with powdered graphite.
If you subscribe to the "more is better" line of thought, your coated bullets may never dry. Don't go for a "golden" color but rather just a light varnish. If you discover that your bullets are sticky the next day, you can get by with using a little less the next time. Keep reducing until the "stickiness" is gone by the next day.
If you are sizing your cast bullets, it is necessary to lube them first. Because the sizer will remove some of the surface of a larger diameter bullet, you may need to re-lubricate the bullets after they have been sized.
Many of our bullets are of the "TL" or Tumble Lube design. These bullets have many shallow grooves that are perfect for allowing Liquid Alox to adhere to a great amount of surface. It has been reported that the accuracy of these bullets is high.