You can subscribe to this Newsletter if you sign up for an account with Titan Reloading.
CLICK HEAR TO REGISTER AN ACCOUNT
CLICK HERE To browse an archive of past newsletters.

MAY 2016 NEWSLETTER
Robin and I want to say THANK YOU for the kind words on the forums out there. Many people have found us because you, our customers, have shared the experiences you've had with us. Again, Many Thanks!
Another way that that you all can help fellow customers is by writing product reviews on our website. We encourage this because your testimonies really do carry the most weight. All of the product listings on our website have a link called "Write A Review" found right under the "Add To Cart" button.
I have found a great Facebook Group called "Lee Reloading and Casting Equipment". This group is dedicated to those who use LEE Precision Reloading and Casting Equipment. They discuss issues reloaders may be having, share secrets and modifications to the Lee equipment. They also discuss reloading methods and secrets with each other. For a very good Facebook forum on Lee Precision reloading and equipment CLICK HERE TO JOIN, you'll be glad you did.
We are truly enjoying all the friends we have made through Titan Reloading and look forward to many more. Feel free to contact us. When possible, please email us rather than call. Due to our limited phone system and staff we are able to respond to your questions quicker via email. Please include your full name or order ID number with any order inquiries. Service and Support is our top priority. As always, you will find many answers to questions in the "FAQ" and "Help Videos" areas of our website www.titanreloading.com . Check us out on Google+ and Facebook .
Dennis / Titan Reloading
FEATURED PRODUCT:
NEW LEE AUTO BENCH PRIME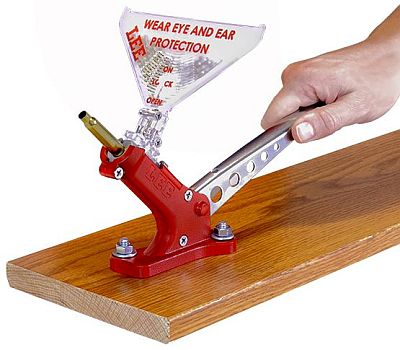 The easiest, most convenient BENCH MOUNTED priming tool ever. Symmetrical design allows effortless right or left hand operation. Comfortable lever with just the right amount of mechanical advantage effortlessly seats even the most difficult primers with just finger pressure. The perfect mechanical advantage to feel the primer seating completely home into the primer pocket.
Includes priming assemblies for large and small primers. Made of water clear tough polyester material that allows you to monitor the primers passage from the tray to the primer pocket. Change primer size or shell holder in seconds.
Also including the new folding tray. Go from box to priming in seconds. Tray has a built-in primer flipping feature allowing direct filling from today's large primer boxes.
The tool mounting holes are spaced for the Lee Bench Plate System 90251 (sold separately) or can be mounted directly to your workbench.
Requires Auto Prime Shell Holders (sold separately). Lee Auto Prime shell holders have a different base than "Auto Prime 2 and Press" shell holders which will not fit this priming tool.
Shell Holders are not included with this Auto Bench Prime.
INSIGHT OF THE MONTH:
Auto Bench Prime Jamming Issue
If you do not lift the lever firmly enough, you may get a primer fed against the flash gate and a second primer in the elevator. To release trapped primer, use a paper clip to slide the primer back into the elevator. To prevent this from happening, firmly lift against the rubber up stop, or remove the rubber up stop o-ring with a pocket knife.
When installing a primer be sure to raise the lever back up to the top stop. If you simply let go of the lever at the bottom of the stroke the spring can return the lever with enough force to release another unwanted primer.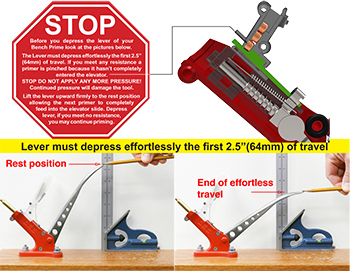 CLICK IMAGE TO ENLARGE