You can subscribe to this Newsletter if you sign up for an account with Titan Reloading.
CLICK HEAR TO REGISTER AN ACCOUNT
CLICK HERE To browse an archive of past newsletters.

NOVEMBER 2019 NEWSLETTER
RELOAD WITH CONFIDENCE!
What's Your TITAN Advantage?….WE RELOAD!
The Titan Crew would like to congratulate the Washington Nationals on their World Series Championship and thank them, the Houston Astros and ALL the other teams for an exciting October of baseball. So much for the notion of home field advantage, the road team won in all 7 games of the World Series. Unfortunately this trend did not start at the beginning of the playoffs as the Nationals knocked off my Brewers in the NL Wildcard Game in Washington. Oh well….next year will be fun. Okay, no more excuses, time to get the yard ready for winter.
DILLON AND MEC PRESS SALE!
Ending Soon!
If you've ever considered getting a Dillon or MEC reloading press now's the time to take action. Our current pricing is below anything you will find anywhere. Click below to see the details on our "Dillon Daze" and "MEC Madness" sales, you'll be glad you did.
We are truly enjoying all the friends we have made through Titan Reloading and look forward to many more. Feel free to contact us. When possible, please email us rather than call. Due to our limited phone system and staff we are able to respond to your questions quicker via email. Please include your full name or order ID number with any order inquiries. Service and Support is our top priority. As always, you will find many answers to questions in the "FAQ" and "Help Videos" areas of our website www.titanreloading.com . Check us out on YouTube.
Dennis / Titan Reloading
FEATURED PRODUCT: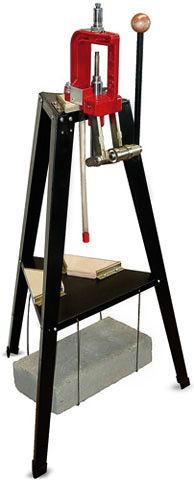 Introducing the Lee Reloading Stand, perfect for the reloader with limited working space, an overwhelmed workbench, or someone looking for solution to portable reloading needs. The sturdy powder coated steel stand places your press at the perfect counter stool or standing height of 39″. The 10 inch triangular steel top plate uses the Patented quick change Lee Bench Plate system. The stand is 26″ wide by 24″ deep so it does not require a lot of room.
There's more, the reloading stand includes a sturdy steel shelf with two bench plate receivers that will neatly and securely store your extra presses or mountable accessories. Included with the stand is one storage bin for component or tool storage, which clips onto the steel bin bracket provided with the stand. Each leg has eight mounting holes that allow you to accessorize your stand with a multitude of bins, shelves or accessory die racks. Includes drawing to customize and make your own extended work surface. This reloading stand is perfect for the apartment-dweller or anyone who is limited on space.
: Fits all Lee metallic presses (Fasteners for mounting one press are included).
: Powder-Coated Steel
: Comes with one storage bin and bracket, the top plate, the bottom shelf, 1 drilled steel base block, complete fastener set for top plate and bottom shelf and two steel concrete block hangers.
NOTE: The press, 2 bottom shelf wood blocks and concrete block shown in the picture are not included. Concrete block is necessary for safe, stable operation. Obtain one at any building supply or home center.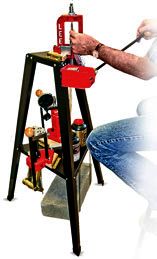 INSIGHT OF THE MONTH:
Cast Bullet Leading
A clue to what is causing the leading is where the leading first begins to appear. If it appears near the chamber, chances are that bullet diameter or hardness are the cause.
A diameter too small and/or too hard an alloy will allow high pressure gas to leak past the bullet, which erodes the bullet and leaves leading near the chamber.
If the leading first appears on the leading edge of the rifling (if you imagine the bullet being pushed through the barrel, you will note that one edge of the rifling does most of the work of imparting a spin to the bullet. This is the edge you see when you look through the barrel from the breech end) the bullet might be too soft, and/or the velocity too high.
A good rule of thumb for maximum velocities when using liquid alox is 1400 feet per second for plain base bullets and 2200 feet per second when using gas check bullets. Bore conditions will require you increase or decrease this velocity slightly to prevent leading.
If the leading appears in the second half of the barrel, the bullet is running out of lube. You should see a star shaped pattern of lube accumulate on the muzzle. This is an indication that there is a little excess lube.
Titan Reloading 994 W. Sumner St., Hartford, WI 53027 1-262-397-8819
WE'RE SETTING THE STANDARD, ONE CUSTOMER AT A TIME.
You are receiving our monthly Titan Reloading Newsletter because you subscribed to it when you set up your account on our website www.titanreloading.com. We don't want you to miss out on the newsletters we send you. We also respect all our valued customers consent. That is why we are asking all of our readers to decide if they would like to discontinue receiving newsletters from Titan Reloading. If you'd like to stop receiving our newsletters please click the "unsubscribe" link at the bottom of the newsletter.