You can subscribe to this Newsletter if you sign up for an account with Titan Reloading.
CLICK HEAR TO REGISTER AN ACCOUNT
CLICK HERE To browse an archive of past newsletters.

SEPTEMBER 2018 NEWSLETTER
RELOAD WITH CONFIDENCE!
What's Your TITAN Advantage?….WE RELOAD!
LABOR DAY SALE
Titan Reloading has made many new friends
and we want to thank all of you for your support
with a 5% DISCOUNT on everything in our store.
COME AND CELEBRATE LABOR DAY WITH US!
Add the items you want to buy into our website shopping cart.
Then go to 'View Cart' rather than 'Checkout' to use coupon code
LD18

.
Sale runs September 1st, 2nd & 3rd, 2018

The Titan Crew would like to THANK all of you, our loyal customers. A couple weeks ago on August 19th, Titan Reloading celebrated it's eighth year in business. Labor Day, September 3rd, will mark the two year anniversary of our showroom's opening in Hartford Wisconsin. We appreciate your supporting our business and we will continue to live up to the many kind recommendations you have shared with your friends.

We are truly enjoying all the friends we have made through Titan Reloading and look forward to many more. Feel free to contact us. When possible, please email us rather than call. Due to our limited phone system and staff we are able to respond to your questions quicker via email. Please include your full name or order ID number with any order inquiries. Service and Support is our top priority. As always, you will find many answers to questions in the "FAQ" and "Help Videos" areas of our website www.titanreloading.com . Check us out on Google + , Facebook and YouTube.

Dennis / Titan Reloading

FEATURED PRODUCT:
Hornady-LNL Concentricity Tool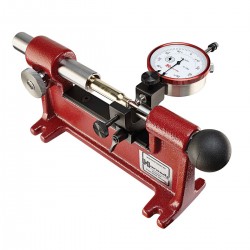 This tool identifies and eliminates bullet run out (or wobble). Just place ammunition in the tool, roll it, identify run out and use the dial indicator thumbscrew to adjust.
Features
Universal centers ensure precise alignment of most bottleneck cartridges from 22 cal up to 45 cal.
Easy-to-use precision adjustment knobs allow you to true up the run out on any cartridge.
Sturdy frame can be bolted to your bench
Provides improved accuracy for hand loaders, and can be used to true up factory ammo too.
INSIGHT OF THE MONTH:
Concentricity
When making loads for precision shooting, hand loaders want to remove as much inconsistency as possible. We go through steps such as weighing every charge, keeping brass separated by times fired, and ensuring there is as small a variation in projectiles as possible. Even when these and other steps are followed, even when we take every care to be consistent with our reloading process, there is another issue that can arise. Concentricity.
Concentricity, in layman's terms, is how symmetrical the case and bullet are along a line that would follow the center of the cartridge. The goal in measuring concentricity is to ensure that the bullet is perfectly in line with your rifle's bore. Some shooters may argue they have never measured concentricity and their bullets fire just fine. That may be true. The bore and barrel are more than capable of changing the movement of the bullet so that it leaves the barrel. But if the bullet is way out of concentricity two issues may arise. First, it is unlikely that the bore was able to fix the bullet's path in such a way that would be consistent with every other round you fire. Secondly, since the bullet was forced into the correct path, it most likely received undue stress or damage. Both of these factors can cause your loads to have lessened accuracy.
It is for this reason many precision shooters will use concentricity tools. These tools help identify if your bullet isn't being held in such a way that is concentric to the rest of the cartridge. One option available is the Hornady Concentricity tool. This tool has an adjustable universal style shell holder and spring loaded bullet steading device that fits cartridges from .22 to .45 caliber. Those two items hold the cartridge steady so that as you roll it, the measuring gauge can show you any variation in the bullet's concentricity. After you have identified the bullet runout, there is a screw with a rubber end that can be used to correct the bullet, ensuring concentricity.
Titan Reloading 994 W. Sumner St., Hartford, WI 53027 1-262-397-8819
WE'RE SETTING THE STANDARD, ONE CUSTOMER AT A TIME.
You are receiving our monthly Titan Reloading Newsletter because you subscribed to it when you set up your account on our website www.titanreloading.com. We don't want you to miss out on the newsletters we send you. We also respect all our valued customers consent. That is why we are asking all of our readers to decide if they would like to discontinue receiving newsletters from Titan Reloading. If you'd like to stop receiving our newsletters please click the "unsubscribe" link at the bottom of the newsletter.