NOVEMBER 2021 NEWSLETTER
RELOAD WITH CONFIDENCE!
What's Your TITAN Advantage?….WE RELOAD!
***Your Reloading Specialists***
WOW! November already, one of my favorite months of the year. My 150 grain Soft Points are loaded, my evil black rifle is sighted in and my neighbors are once again treated to the bright orange cloths hanging on the back of my house airing out. All is good and I'm sure that hunting will go better than the fishing did this year! Best of luck to all of you and your hunting crews. There are memories to be made and it doesn't get any better than this.
UPS WORLDWIDE EXPEDITED IS AVAILABLE FOR INTERNATIONAL SHIPPING
UNTIL FURTHER NOTICE WE HAVE SUSPENDED ALL
INTERNATIONAL USPS SHIPPING DUE TO UNPREDICTABLE DELIVERIES.
We are truly enjoying all the friends we have made through Titan Reloading and look forward to many more. Feel free to contact us. When possible, please email us rather than call. Due to our limited phone system and staff we are able to respond to your questions quicker via email. Please include your full name or order ID number with any order inquiries. Service and Support is our top priority. As always, you will find many answers to questions in the "FAQ" and "Help Videos" areas of our website www.titanreloading.com . Check us out on YouTube .

Dennis / Titan Reloading
FEATURED PRODUCT:
Hornady Lock-N-Load AP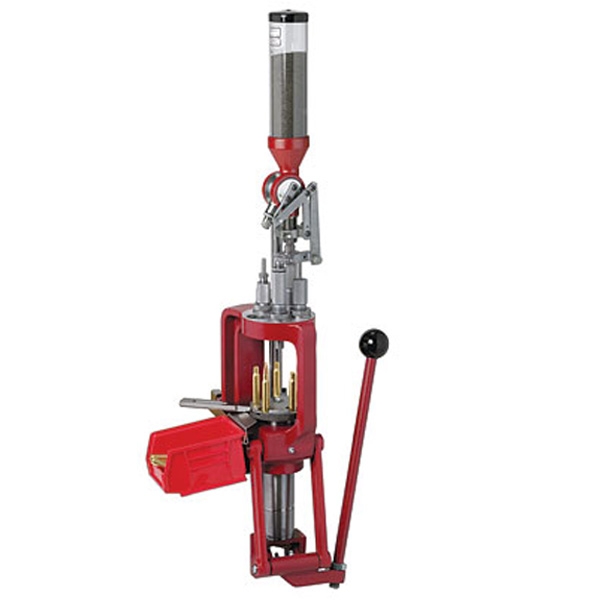 Progressive reloading that's smooth, precise and fast.
With a single pull of the handle, you'll feel the difference between this high-performance machine and ordinary reloading presses. You'll feel the smooth responsiveness, the rugged construction, and most of all, the power! The Power-Pac Linkage System literally multiplies and accelerates the leverage you apply to the handle. And since the AP features automatic indexing, priming and ejection, every pull of the handle give you a precisely loaded round.
Included:
Lock-n-Load Powder Measure (pistol and standard metering assemblies)
Case Activated Powder Drop
Cartridge Bin
Primer Pickup Tubes (large and small)
5 Lock-n-Load die bushings
Product Features
All you need are dies and shell plates to start loading with your AP!
Quick Change Lock-N-Load Bushing System
Lock-N-Load? AP? has a 5-station quick change bushing system that allows quick and easy change overs from 223 to 45 in less than 5 minutes.
Quick Change Metering Inserts
The Lock-N-Load powder measure uses quick change metering inserts that allow you to switch from one powder to another with the push of a button. Add one to each die set for the ultimate in quick change overs.
Reliable EZject System
The EZject feature delivers 100% reliable ejection of every cartridge, every time, without any adjustments.
Universal Case Retainer Spring
The ingenious case retainer spring allows you to quickly and easily remove or insert a case at any point in the loading process.
Priming System
The Lock-N-Load AP System can be changed from large to small primers as easy as 1-2-3:
Change the primer seater punch.
Change the primer shuttle.
Change the primer feed tube.
Case Activated Powder Drop
Case activated powder drop will dispense a powder charge only when a cartridge case is present.
Automatic Indexing
Each station moves half a stage on the down stroke and half on the up stroke, making for ultra smooth functioning. This process is much smoother than presses that do all their indexing on the down stroke.
INSIGHT OF THE MONTH:
Useful Tid-bits
Why does load data listed in various manufacturers' loading manuals differ when loading the same cartridge?
The size of the specific firearm chamber, throat dimensions, seating depth, bullet profile, propellant variances and crimping depth can all contribute to variations in load data. For example, the data found in the Hornady loading manual represents actual results derived in the Hornady Ballistics Laboratory. Manufacturers recommend that reloaders always start with the "starting load" and work up cautiously until they achieve the performance they're looking for. If pressure signs become evident, stop immediately and reduce the load or try another propellant.
What would the velocity of your ammunition be if using a shorter barrel?
Exact velocities can't be calculated because variables associated with individual chambers and/or barrels affect velocity, but on average, velocity gains or losses will be approximately 25 to 35 feet per second per inch of barrel difference. That doesn't hold true for every load or every gun. To truly measure performance, the load should be tested over a chronograph.
Why does velocity differ from what's listed on the ammo box?
In order to comply with industry standards, manufacturers publish data for ammunition derived from testing with Sporting Arms and Ammunition Manufacturers Institute (SAAMI) specification test barrels. SAAMI specifies minimum and maximum chamber sizes and certain barrel lengths for certain cartridges. For instance, most rifle test barrels are 24 inches long. Due to variables associated with individual firearm chambers and/or barrels, velocities may be faster or slower than those published in the manuals.
Bullet Weights Not Found In Manuals
If the bullet weight you wish to load is not found in your favorite manual, it is safe to use loads listed for a heavier weight bullet and find a load for the powder you have. Using that load with the lighter bullet simply reduces the pressure, and the velocity remains approximately the same.
Velocity Of Lead Bullets
A good rule of thumb for maximum velocities when using liquid alox is 1400 feet per second for plain base bullets and 2200 feet per second when using gas check bullets. Bore conditions will require you increase or decrease this velocity slightly to prevent leading.
Titan Reloading 994 W. Sumner St., Hartford, WI 53027 1-262-397-8819
WE'RE SETTING THE STANDARD, ONE CUSTOMER AT A TIME.