You can subscribe to this Newsletter if you sign up for an account with Titan Reloading.
CLICK HEAR TO REGISTER AN ACCOUNT
CLICK HERE To browse an archive of past newsletters.

APRIL 2019 NEWSLETTER
RELOAD WITH CONFIDENCE!
What's Your TITAN Advantage?….WE RELOAD!
Well here it is, April already, and that's no fools joke! Harley-Davidson motorcycles were invented right here in Milwaukee Wisconsin and it seems like as soon as the "Rockin' Robins" come back they bring the rumblin' of summer as well. With only a few days since early December that temperatures have been much above freezing and there are scooters out and about everywhere. Ahhh…the sounds of summer and I can tell by listening to all the birds in the morning that all is GOOD!
We are truly enjoying all the friends we have made through Titan Reloading and look forward to many more. Feel free to contact us. When possible, please email us rather than call. Due to our limited phone system and staff we are able to respond to your questions quicker via email. Please include your full name or order ID number with any order inquiries. Service and Support is our top priority. As always, you will find many answers to questions in the "FAQ" and "Help Videos" areas of our website www.titanreloading.com . Check us out on Facebook and YouTube.
Dennis / Titan Reloading
FEATURED PRODUCT:
ACME BULLET SALE
GET 10% OFF!
Add the ACME bullets you want to buy into our website shopping cart.
Then go to 'View Cart' rather than 'Checkout' to use coupon code
ACME419

.
Sale runs April 2019
ACME LEAD BULLETS
Premium cast lead bullets manufactured to the highest level of accuracy.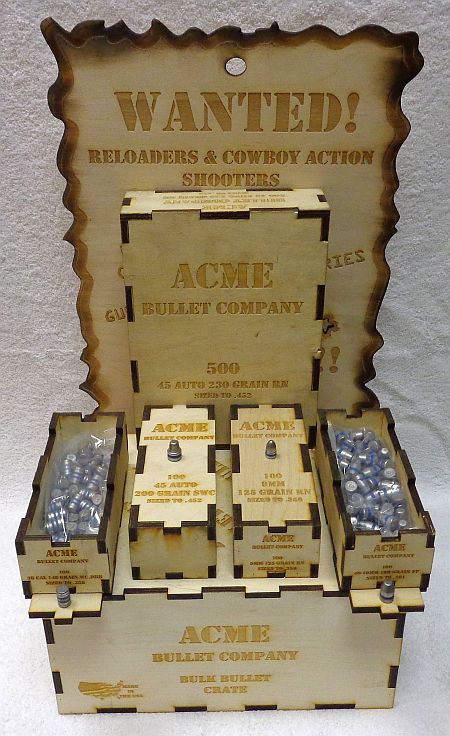 Bullets are packaged in 100 ct. and 500 ct. boxes with 2000 ct. bulk boxes available on some types of bullets.
You will want to use the precision made wooden interlock boxes for storage of loose items for many years after the bullets have gone down range.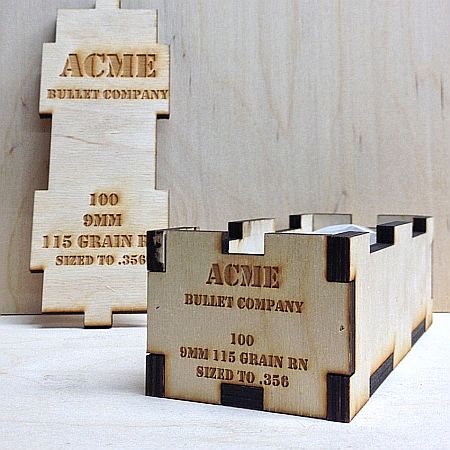 ACME Bullet Company uses only certified 92/6/2 lead alloy from the foundry with a Brinell Hardness of 16.

ACME bullets are sized, lubed and are ready to reload right out of the box.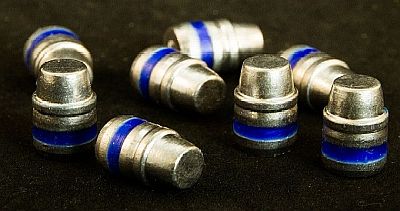 ACME HiTek Coated Bullets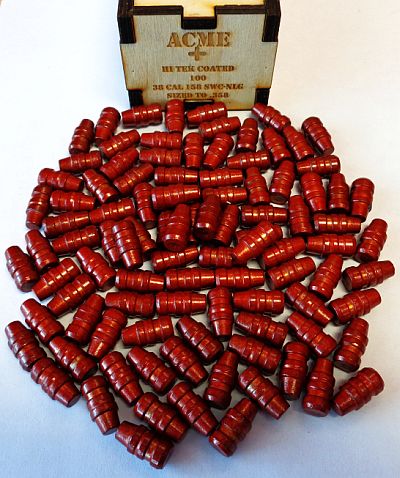 ACME Bullet Company introduces their "Lipstick" bullets. These are their cast bullets with HiTek coating. All bullets are cast with 92-6-2 alloy then coated with HiTek coating that molecularity bonds to the bullet as it cures. This process completely encapsulates the bullet.
Benefits include:
1) Coating prevents lead to bore contact thus virtually eliminating lead fouling.
2) Less smoke as associated with traditional wax lubed bullets.
3) Range friendly.
4) Bullets feed well in automated bullet feeders.
5) Shoot higher velocities without lead fouling.
6) Can be shot through polygonal rifling.
Give your next target a lasting kiss.
ACME by definition means "Apex", or in the words of the Acme Bullet Company founders, "The epitome of all things good and pure". ACME Bullets are made by shooters for shooters and their years of competition shooting experience goes into every bullet they make.
NOTE: We Ship Bullets to locations inside of the United States ONLY.
No international shipping.
INSIGHT OF THE MONTH:
Choosing a Powder for a New Cartridge
article from the Hodgdon website
You just purchased your new hunting rifle in a cartridge where you have no loading experience. What powder do you choose? When you look at reload data, the list of powders is usually long, and any one of them might work great. But here is the trick to hone in quickly on the ones that may work best.
First, choose the bullet for your intended use. Review the reload data to find the velocity level you wish to achieve. As you look at the powder charges, chances are very good one of the powders that meets your velocity criteria shows a "C" beside the maximum charge and/or gives one of the highest velocities. The "C" means a lightly compressed charge of powder. That is an ideal situation, as maximum or near maximum charge weights that yield from 95% to 103% load density tend to give the most uniform velocities, as well as top accuracy.
I've yet to see a benchrest shooter whose load does not completely fill the case, as well as give top velocity. The same holds true for a varmint shooter, case full or darn close to it. Along with that particular powder, the powders listed closest to it on either side will likely be in that 95% to 103% range as well. This is a great place to start. Simply start with the beginning load for that combination and carefully work your way into the maximum, at all times watching for case head pressure signs. You can save a lot of shooting by carefully going up in 1/2-grain increments at a time (in mid- to large-capacity cases). Fire only two rounds of each charge level, each pair at a different target. Shoot slow enough to not overheat the barrel. Some of these two-shot groups will show a willingness to group closely. When you find shots that group tightest, load several rounds and then shoot five-shot groups for verification.
I do not have one rifle that doesn't group the best somewhere near the max load. Should this not provide the accuracy required, either change primer brands and repeat or try one of the powders on either side of the one you just tested. Chances are very good one of these will lead you to a load that meets your expectations.
Titan Reloading 994 W. Sumner St., Hartford, WI 53027 1-262-397-8819
WE'RE SETTING THE STANDARD, ONE CUSTOMER AT A TIME.
You are receiving our monthly Titan Reloading Newsletter because you subscribed to it when you set up your account on our website www.titanreloading.com. We don't want you to miss out on the newsletters we send you. We also respect all our valued customers consent. That is why we are asking all of our readers to decide if they would like to discontinue receiving newsletters from Titan Reloading. If you'd like to stop receiving our newsletters please click the "unsubscribe" link at the bottom of the newsletter.