You can subscribe to this Newsletter if you sign up for an account with Titan Reloading.
CLICK HEAR TO REGISTER AN ACCOUNT
CLICK HERE To browse an archive of past newsletters.

MAY 2019 NEWSLETTER
RELOAD WITH CONFIDENCE!
What's Your TITAN Advantage?….WE RELOAD!
Yeah Buddy…..it's May…..OOHRAH!! Time to get out the grill, the golf clubs, the guns and…well…the lawn mower. I don't know about you but I LOVE this time of year.
The Titan Crew wants to THANK YOU for the kind words on the forums out there. Many people have found us because you, our customers, have shared the experiences you've had with us. Again Thanks!
Another way that that you all can help fellow customers is by writing product reviews on our website. We encourage this because your testimonies really do carry the most weight.
We are truly enjoying all the friends we have made through Titan Reloading and look forward to many more. Feel free to contact us. When possible, please email us rather than call. Due to our limited phone system and staff we are able to respond to your questions quicker via email. Please include your full name or order ID number with any order inquiries. Service and Support is our top priority. As always, you will find many answers to questions in the "FAQ" and "Help Videos" areas of our website www.titanreloading.com . Check us out on Facebook and YouTube.
Dennis / Titan Reloading
FEATURED PRODUCT:
Classic Cast Turret Press Kit
$192.49 when you use coupon code
CCT519

.
Add the press into the shopping cart and then go to
'View Cart' rather than 'Checkout' to use the coupon code.
Sale ends June 1st, 2019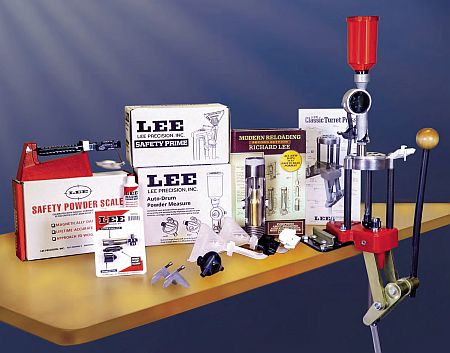 This kit and a set of Lee dies is everything you need to begin reloading. The Classic Cast Turret features solid steel linkage and a cast iron base.The Classic Cast Turret is fast and convenient when loading handgun cartridges, with rates in excess of 250 rounds per hour possible.
The kit includes the Auto Drum powder measure and riser, perfect for all handgun and small rifle cartridges. Large and Small Safety Prime are included making on press priming an ease. Instant change 4 hole turrets make changing calibers a snap. Deactivate the auto-index and batch load the longest and largest rifle cartridges.
Complementing your press kit are the case conditioning tools to prepare your brass for loading. Includes Cutter, Lock Stud, Chamfer Tool, small and large Primer Pocket Cleaner, and a tube of Lee case sizing lube.
Complete your setup with a cartridge specific Case Length Gauge (sold separately). Verify your loads with the included Lee Safety powder scale. Completing the kit is Modern Reloading Second Edition, recently revised with all new load data covering 167 cartridges with over 28,000 loads.
NOTE: The bench plate mounting system shown in the picture is sold separately in the "Press Accessories" category.
INSIGHT OF THE MONTH:
The Impact of Barrel Twist Rates on Bullets
by George Harris / NRA Shooting Illustrated

There has been much study and commentary on twist rates regarding how they affect the flight of a bullet in handguns, rifles and other single-projectile launchers. Similarly, there are some guidelines with which to work on this subject, but there are many variables to these guidelines that have to be considered, as well—too many to discuss in the space available. I can, however, cover a few to answer the majority of your interests.
Twist rate and velocity have a major impact on the stability, accuracy and flight integrity of a bullet, but, consider the following. The design of the bullet, for example, will dictate the rpm it will withstand when it is fired. Some bullets have thin jackets designed to disrupt quickly on impact such as those designed for hunting varmints. Match bullets, in order to maximize weight in a certain-size envelope, may also have thin jackets because lead is heavier than copper. The stress on the jacket material when fired in deep-grooved or rough barrels with sharp-edged lands is enough to weaken the jacket to the point of separation soon after it leaves the barrel in some cases. Once the core loses the support of the jacket, it also disintegrates due to the centrifugal forces imparted by the rpm of the bullet, often resulting in a small cloud of dust between the muzzle and the target. This usually happens within the first 50 yards of flight, which is just milliseconds out of the muzzle. I have yet to see a bullet hold together for a second or more and then come apart in flight. I suppose it could happen, but it is unlikely in my opinion.
Generally speaking, it would be difficult to drive a bullet fast enough to the point of disintegration out of a short-barreled rifle or AR pistol in the calibers these firearms are typically chambered in, even with a tight twist rate. Usually the culprit of bullet disintegration in these guns is related to the bore or an attached muzzle device. I have seen this to be the case when the muzzle device was not attached in perfect alignment with the bore, causing a disruption in the bullet as it exited the muzzle.
Bullet manufacturers often recommend twist rates for bullet stability on the containers they are sold in, particularly in the heavy range for a given caliber, assuming they are shot at velocities commensurate with their intended purpose. Often, they will advise (if contacted by the customer) an rpm range for optimum stability and integrity for a particular bullet. Using the formula of known muzzle velocity multiplied by 720, then divided by the measured twist rate in inches, will determine what characteristics the bullet should possess for optimum performance in any gun—providing the barrel is in good shape and the bullet isn't damaged in the feeding and chambering process or by a muzzle attachment.
Keep in mind that ballistics is not an exact science. There are guidelines and so-called rules to go by, but there are many exceptions that have to be considered. The best way to achieve success is to stay within the recommended guidelines offered by the industry and experts regarding bullets and their capabilities. There is certainly nothing wrong with experimenting outside of the box as long as safety is not compromised. You won't know what works in your guns and what doesn't unless you give it a try.
Titan Reloading 994 W. Sumner St., Hartford, WI 53027 1-262-397-8819
WE'RE SETTING THE STANDARD, ONE CUSTOMER AT A TIME.
You are receiving our monthly Titan Reloading Newsletter because you subscribed to it when you set up your account on our website www.titanreloading.com. We don't want you to miss out on the newsletters we send you. We also respect all our valued customers consent. That is why we are asking all of our readers to decide if they would like to discontinue receiving newsletters from Titan Reloading. If you'd like to stop receiving our newsletters please click the "unsubscribe" link at the bottom of the newsletter.