You can subscribe to this Newsletter if you sign up for an account with Titan Reloading.
CLICK HEAR TO REGISTER AN ACCOUNT
CLICK HERE To browse an archive of past newsletters.

DECEMBER 2014 NEWSLETTER
Robin, I and the Titan Crew hope you all had a Great Thanksgiving. Our family get together has been complete ever since our son came home from the Marine Corps. Our prayers always include those not able to be home due to service of our country and also for all the families with an empty chair during the Holidays. We owe them a debt we can never repay, THANK YOU.
We are truly enjoying all the friends we have made through Titan Reloading and look forward to many more. Feel free to contact us. When possible, please email us rather than call. Due to our limited phone system and staff we are able to respond to your questions quicker via email. Please include your full name or order ID number with any order inquiries. Service and Support is our top priority. As always, you will find many answers to questions in the "FAQ" and "Help Videos" areas of our website www.titanreloading.com . Check us out on Google+ and Facebook .
Dennis / Titan Reloading
FEATURED PRODUCT:
LEE BREECH LOCK CHALLENGER 50TH ANNIVERSARY KIT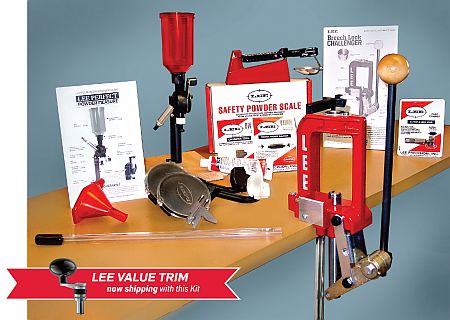 NEW IN 2014. This kit now includes the Value Quick Trim to prep your cases on the press.
Includes the new Breech Lock Challenger Press and one Breech Lock quick-change bushing.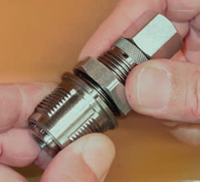 You get a complete powder handling system, with the most convenient and repeatable Perfect Powder Measure. Plus the Lee Safety Scale, the most sensitive and safest of all powder scales and fill your case with the included Powder Funnel. A $157.00 value.
Case Preparation Tools include a cutter and lock stud to trim your cases. Order the correct case length gauge for the calibers you will be loading, it's only $5.50 extra. An included Lee chamfer tool chamfers the inside and outside of the case mouth and a tube of premium sizing lube is included. A small and large primer pocket-cleaning tool completes the case preparation package. $13.92 value.
But that's not all! You get the Large and small Safety Prime. Prime with push button convenience and is safe with all brands of primers. Never touch the primer from box to the case. $30.00 value.
Compare it to others priced at hundreds of dollars more. Reloading saves money and you save right from the start with Lee equipment.
Specifications:
Press Type: Single Stage
Frame Material: Die Cast Aluminum
Frame Design: O Frame
Frame Offset: 30 Degrees
Frame Opening Size: 4-1/4″
Handle Location: Bottom Right or Left
Die Size Accepted: Standard 7/8″-14 Threaded Dies
Die Bushing Accepted: Yes
Die Bushing Brand Used: Lee Breech Lock Quick Change Bushings
Spent Primer Collection System: Yes
Ram Stroke: 3-1/2″"
Ram Diameter: .815″
Priming Feature: No
Number of Mounting Holes: 3
Mounting Hardware Included: No
Includes:
Challenger Breech Lock single stage press
1 Breech Lock Die Bushing
Lee Safety Scale
Perfect Powder Measure
Powder Funnel
Lock Stud and Cutter
Lee chamfer tool
Primer Pocket Cleaner
Large and Small Safety Prime
Tube of Sizing Lube.
Note:
A Lee Case Length Gage, sold on the Case Length Gage and Shellholder page, will need to be purchased for each caliber being reloaded.
A Lee Quick Trim Die, sold on the Quick Trim Case Trimmer page, will need to be purchased for each caliber being reloaded for the Value Quick Trim.
INSIGHT OF THE MONTH:
Bullet Seating Die Adjustment
The trick is to set the bullet seating depth first, then the crimp. This is done as follows; With an empty, sized case in the shell holder, hold the ram at the top of its stroke. Turn the bullet seating die body down over the case until you feel it come to a stop. This will be when the case mouth contacts the crimp shoulder inside the die. Mark this position by turning the lock ring down against the turret or press frame. Now adjust your bullet seating depth. Once you have the bullet seated to the desired depth, back the bullet seater adjuster out about 1 turn. Now turn the bullet seating die body in to apply the desired crimp. Once this is established, hold the ram at the top of its stroke and spin the bullet seater adjuster down until it stops.
It is a good idea to carry this out with an empty case, so that after you have seated the bullet, you have a perfectly safe "dummy" cartridge (or gauge) to repetitively set seating depth and crimp on future occasions.
Once you have this "dummy" gauge, all you have to do is place it in the shell holder, raise the ram to the top of its stroke, turn the bullet seating body down until it stops, and then turn the bullet seating depth adjuster in until it stops. Since the crimp and the seating depth were already set, the die will return to very close to the same settings.