You can subscribe to this Newsletter if you sign up for an account with Titan Reloading.
CLICK HEAR TO REGISTER AN ACCOUNT
CLICK HERE To browse an archive of past newsletters.

JANUARY 2013 NEWSLETTER
Robin and I want to wish all of you a HAPPY and PROSPEROUS NEW YEAR! We have undergone many changes in 2012, including the addition of our daughter, two sons and a soon to be daughter-in-law to our crew. This should really test the bonds within our family but so far so good. We could not have done 2012 without our kids. 2013 will be another year of growth, THANKS to all of you.
NOTICE: We are currently facing a run on reloading equipment. "Out Of Stock" items are on order and we update the website daily as items arrive.Lee Precision and Titan Reloading are working hard to keep up with demand. Thank you for your patience.
We are truly enjoying all the friends we have made through Titan Reloading and look forward to many more. Feel free to contact us. Service and Support is our top priority. As always, you will find many answers to questions in the "FAQ" and "Help Videos" areas of our website www.titanreloading.com
Dennis / Titan Reloading
FEATURED PRODUCT:

Lee Pro 4 Melter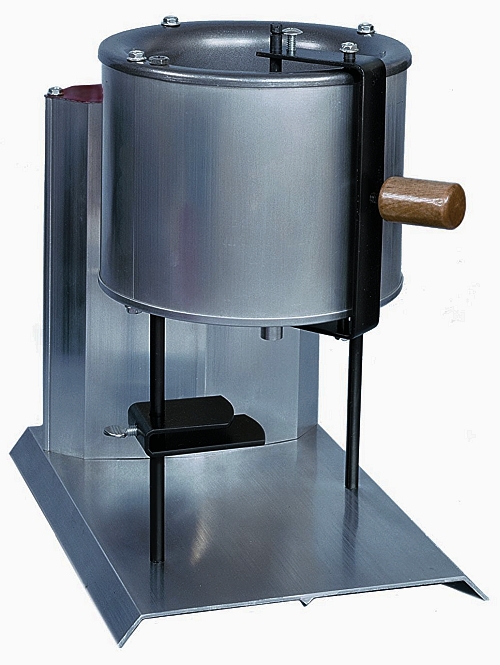 20 Lb Furnace 110 Volt
Large diameter high capacity pot, holds approximately 20 pounds of lead. A generous 4 inches of clearance under the spout accepts all brands of bullet molds and most sinker molds. It also includes an adjustable mold guide to quickly and accurately position any mold for pouring. This second generation design incorporates the famous Lee patented high-efficiency design and dependable remote sensing thermostat, now in a dust tight housing. Long life 700-watt tubular heating element assures quick melting and rapid recovery. New micro adjustable, flow control valve adjusts instantly with a twist of the screw driver. Front mounted low maintenance replaceable valve spout allows instant reseating with a turn of a screwdriver.
110 Volt
INSIGHT OF THE MONTH:
Liquid Alox Application
Best results in applying liquid alox are when the alox is heated before applying, or thinned with paint thinner. This makes it flow more easily, and results in a more even coat. One technique is to boil water and pour it into a coffee mug, and then drop the bottle of liquid alox into the mug for about five minutes.
Place your freshly cast bullets into something about the size of a Cool Whip bowl and drop a few drops of liquid Alox on the bullets. Mix the bullets around until they are all coated. Lay the freshly coated bullets on some wax paper to dry. Liquid alox will usually dry enough overnight to reload the next day, depending upon the humidity. Tacky bullets can be dusted with powdered graphite.
If you subscribe to the "more is better" line of thought, your coated bullets may never dry. Don't go for a "golden" color but rather just a light varnish. If you discover that your bullets are sticky the next day, you can get by with using a little less the next time. Keep reducing until the "stickiness" is gone by the next day.
If you are sizing your cast bullets, it is necessary to lube them first. Because the sizer will remove some of the surface of a larger diameter bullet, you may need to re-lubricate the bullets after they have been sized.
Many of our bullets are of the "TL" or Tumble Lube design. These bullets have many shallow grooves that are perfect for allowing Liquid Alox to adhere to a great amount of surface. It has been reported that the accuracy of these bullets is high.