You can subscribe to this Newsletter if you sign up for an account with Titan Reloading.
CLICK HEAR TO REGISTER AN ACCOUNT
CLICK HERE To browse an archive of past newsletters.

DECEMBER 2015 NEWSLETTER
Robin and I wish all of you a Very Merry Christmas and a Happy New Year. May you find in this season the Peace that you remember from years gone by, to preserve it forever.
The Titan Crew hopes you all had a Great Thanksgiving. Our family get together has been complete ever since our son came home from the Marine Corps. Our prayers always include those not able to be home due to service of our country and also for all the families with an empty chair during the Holidays. We owe them a debt we can never repay, THANK YOU.
We are truly enjoying all the friends we have made through Titan Reloading and look forward to many more. Feel free to contact us. When possible, please email us rather than call. Due to our limited phone system and staff we are able to respond to your questions quicker via email. Please include your full name or order ID number with any order inquiries. Service and Support is our top priority. As always, you will find many answers to questions in the "FAQ" and "Help Videos" areas of our website www.titanreloading.com . Check us out on Google+ and Facebook .
Dennis / Titan Reloading
FEATURED PRODUCT: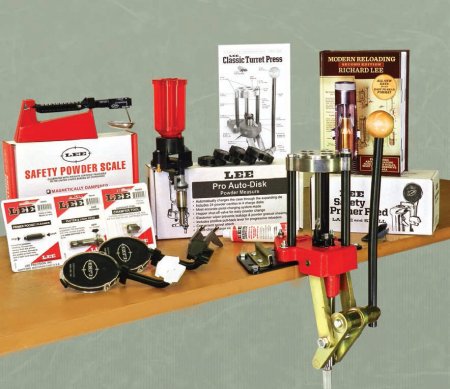 This kit and a set of Lee dies is everything you need to begin reloading. The Classic Turret is fast and convenient when loading handgun cartridges, with rates in excess of 250 rounds per hour possible.
The kit includes the Pro Auto-Disk powder measure and riser, perfect for all handgun and small rifle cartridges. Large and Small Safety Prime are included making on press priming an ease. Instant change turret makes changing calibers a snap. Deactivate the auto- index and batch load the longest and largest rifle cartridges.
Complementing your press kit are the case conditioning tools to prepare your brass for loading. Includes Cutter, Lock Stud, Chamfer Tool, small and large Primer Pocket Cleaner, and a tube of Lee case sizing lube.
Complete your setup with a cartridge specific Case Length Gauge (sold separately). Verify your loads with the included Lee Safety powder scale. Completing the kit is Modern Reloading Second Edition, recently revised with all new load data covering 167 cartridges with over 28,000 loads.
NOTE: The bench plate mounting system shown in the picture is sold separately in the "Press Accessories" category.
INSIGHT OF THE MONTH:
Tight Case Length Gage in Resized Case
Rifle cases that have been resized, and deprimed, have had the neck reduced in diameter by forcing it into the die, and then by pulling the case out of the die the expander has opened the case mouth to a size usually .001" smaller than your bullet diameter.
With Pistol cartridges case neck wall thickness makes the difference. Sizing the case from the outside squeezes the case down. If the case wall is .002" thicker than nominal, that makes the inside diameter of the case mouth .004" smaller, making the gauge tight.
The gage should be that same .001"- .002" smaller than the neck diameter. If it fits tight in your cases, you can simply reduce your gauge diameter.
Remove the gauge from the cutter. Clamp the gauge in a drill chuck and spin it. Take some 320 grit emery cloth and sand down the large end until it fits into your case. This is only a thousandth of an inch or two, so it does not take much to remove it.
If you are having trouble getting the gauge into the cutter, take a hand drill and lock the gauge into the chuck. This is just to give you something to hold it with. Now screw the cutter on. They are made tight so they won't work loose.