You can subscribe to this Newsletter if you sign up for an account with Titan Reloading.
CLICK HEAR TO REGISTER AN ACCOUNT
CLICK HERE To browse an archive of past newsletters.

DECEMBER 2017 NEWSLETTER
The Titan Crew hopes you all had a Great Thanksgiving filled with family and friends. Our prayers always include those not able to be home due to service of our country and also for all the families with an empty chair during the Holidays. We owe them a debt we can never repay. THANK YOU.
We wish all of you a Very Merry Christmas and a Happy New Year. May you find in this season the Peace that you remember from years gone by, to preserve it forever.
We are truly enjoying all the friends we have made through Titan Reloading and look forward to many more. Feel free to contact us. When possible, please email us rather than call. Due to our limited phone system and staff we are able to respond to your questions quicker via email. Please include your full name or order ID number with any order inquiries. Service and Support is our top priority. As always, you will find many answers to questions in the "FAQ" and "Help Videos" areas of our website www.titanreloading.com . Check us out on Google + and Facebook .
Dennis / Titan Reloading
FEATURED PRODUCT:
A Precision Powder Bar Adjustment Dial
for the Dillon Precision Powder Measures
The Powder Bar in the picture NOT INCLUDED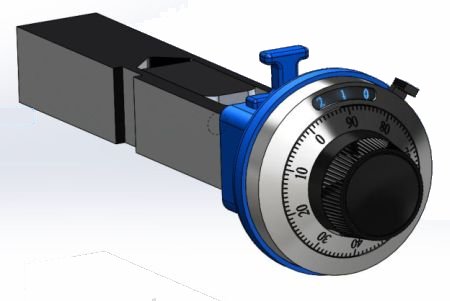 The EasyDial, is a dial that offers precision micro powder adjustments to the Dillon Powder Measure. The EasyDial will fit the large, magnum, small, or X-small powder bars for following Dillon presses; Square Deal, 550, 650 and 1050. This EasyDial is designed for the Large or Magnum charge bar. CLICK HERE for the EasyDial Small Bar. Also a downloadable calibration spread sheet will be available; once calibrated to your powder and bar, dial setting to desired powder charge is much faster. Always follow safe reloading practices; the EasyDail is not intended to replace the powder scale, always confirm the powder weight after any setting changes.
The EasyDial Features:
Easy installation; NO GLUE or permanent modifications
Easy to use; has a large 0.9" diameter adjusting knob
Easy to read; has a large dial face with 0.1" tall numbers
Easy to set Dial lock; helps prevent accidental adjustments or movement
EasyDial Precision:
Micro adjustments; 0.0004″ per division Dial
Dial divisions; 100 per turn
Repeatable powder adjustments; within 1/100th of a turn over 10 turns
Absolute powder bar position, to easily and accurately return to a favorite powder charge setting
Smooth feel and operation
INSIGHT OF THE MONTH:
Gas Checks
Gas Checks, as we know them today, are small precisely made copper cups that fit on the base of the bullet. Gas checks are used when non-jacketed bullets are used in high pressure cartridges. Gas Checks are a method of enhancing the bullet performance by sealing the base of the bullet against gas blow-by and shielding the lead from the high temperatures generated by the gunpowder. The use of a gas check inhibits the buildup of lead in the barrel and improves accuracy. It has been a generally accepted practice to use a Gas Check on bullets above 1,400 fps.
Gas Checks are most commonly found in the form of a thin cup or disc made of a ductile metal. Copper, zinc, aluminum, and alloys such as brass have been used. A bullet designed to accept a Gas Check has a rebated base shank which permits attachment of the check without altering the maximum diameter of the bullet. The shallow cup-shaped check is mechanically attached to the reduced shank of the bullet by swaging.
High pressures, such as those commonly encountered in maximum loads of magnum revolver cartridges or rifle cartridges, often result in significant problems when coupled with cast or swaged lead bullets. It was long thought that the high temperatures melted the base of the bullet, but this is no longer thought to be the case. Instead, the high pressures allow propellant gas to escape past the bullet, causing gas cutting, which increases lead deposits in the barrel and unbalances the bullet. A Gas Check provides a thin layer of harder but still malleable metal on the base of the bullet that obturates to provide a seal and prevents the propellant gas leakage that causes gas cutting, and help the bullet grip the rifling.