You can subscribe to this Newsletter if you sign up for an account with Titan Reloading.
CLICK HEAR TO REGISTER AN ACCOUNT
CLICK HERE To browse an archive of past newsletters.

DECEMBER 2020 NEWSLETTER
RELOAD WITH CONFIDENCE!
What's Your TITAN Advantage?….WE RELOAD!
***Your Reloading Specialists***
The Titan Crew hopes you all had a Great Thanksgiving filled with family and friends. Our prayers always include those not able to be home due to service of our country and also for all the families with an empty chair during the Holidays. We owe them a debt we can never repay. THANK YOU.
We wish all of you a Very Merry Christmas and a Happy New Year. May you find in this season the Peace that you remember from years gone by, to preserve it forever.
We are truly enjoying all the friends we have made through Titan Reloading and look forward to many more. Feel free to contact us. When possible, please email us rather than call. Due to our limited phone system and staff we are able to respond to your questions quicker via email. Please include your full name or order ID number with any order inquiries. Service and Support is our top priority. As always, you will find many answers to questions in the "FAQ" and "Help Videos" areas of our website www.titanreloading.com . Check us out on YouTube .

Dennis / Titan Reloading
FEATURED PRODUCT:
A Precision Powder Bar Adjustment Dial
for the Dillon Precision Powder Measures
The Powder Bar in the picture NOT INCLUDED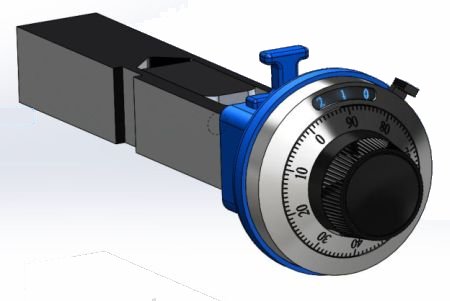 The EasyDial, is a dial that offers precision micro powder adjustments to the Dillon Powder Measure. The EasyDial will fit the large, magnum, small, or X-small powder bars for following Dillon presses; Square Deal, 550, 650 and 1050. This EasyDial is designed for the Large or Magnum charge bar. CLICK HERE for the EasyDial Small Bar. A calibration spread sheet is available; once calibrated to your powder and bar, dial setting to desired powder charge is much faster. Email dennis@titanreloading.com to request the spread sheet. Always follow safe reloading practices; the EasyDail is not intended to replace the powder scale, always confirm the powder weight after any setting changes.
The EasyDial Features:
Easy installation; NO GLUE or permanent modifications
Easy to use; has a large 0.9" diameter adjusting knob
Easy to read; has a large dial face with 0.1" tall numbers
Easy to set Dial lock; helps prevent accidental adjustments or movement
EasyDial Precision:
Micro adjustments; 0.0004″ per division Dial
Dial divisions; 100 per turn
Repeatable powder adjustments; within 1/100th of a turn over 10 turns
Absolute powder bar position, to easily and accurately return to a favorite powder charge setting
Smooth feel and operation
INSIGHT OF THE MONTH:
Tight Case Length Gage in Resized Case
Rifle cases that have been resized, and deprimed, have had the neck reduced in diameter by forcing it into the die, and then by pulling the case out of the die the expander on the decapping mandrel has opened the case mouth to a size usually .001" smaller than your bullet diameter. The case gauges are made to slip into this diameter an normally do not have a tight fit into the case.

With Pistol cartridges case neck wall thickness makes the difference. Sizing the case from the outside squeezes the case down. If the case wall is .002" thicker than nominal, that makes the inside diameter of the case mouth .004" smaller, making the gauge tight.
The gauge should be that same .001"- .002" smaller than the neck diameter of the case. If it fits tight in your cases, you can simply reduce your gauge diameter.
Remove the gauge from the cutter. Clamp the gauge in a drill chuck and spin it. Take some 320 grit emery cloth and sand down the large end until it fits into your case. This is only a thousandth of an inch or two, so it does not take much to remove it.
If you are having trouble getting the gauge into the cutter, take a hand drill and lock the gauge into the chuck. This is just to give you something to hold it with. Now screw the cutter on. They are made tight so they won't work loose.
Titan Reloading 994 W. Sumner St., Hartford, WI 53027 1-262-397-8819
WE'RE SETTING THE STANDARD, ONE CUSTOMER AT A TIME.
You are receiving our monthly Titan Reloading Newsletter because you subscribed to it when you set up your account on our website www.titanreloading.com. We don't want you to miss out on the newsletters we send you. We also respect all our valued customers consent. That is why we are asking all of our readers to decide if they would like to discontinue receiving newsletters from Titan Reloading. If you'd like to stop receiving our newsletters please click the "unsubscribe" link at the bottom of the newsletter.